MS Dhoni grateful for rain as India claim Champions Trophy with narrow win
MS Dhoni felt the poor weather had helped India after their five-run victory over England in the Champions Trophy final
Last Updated: 23/06/13 10:45pm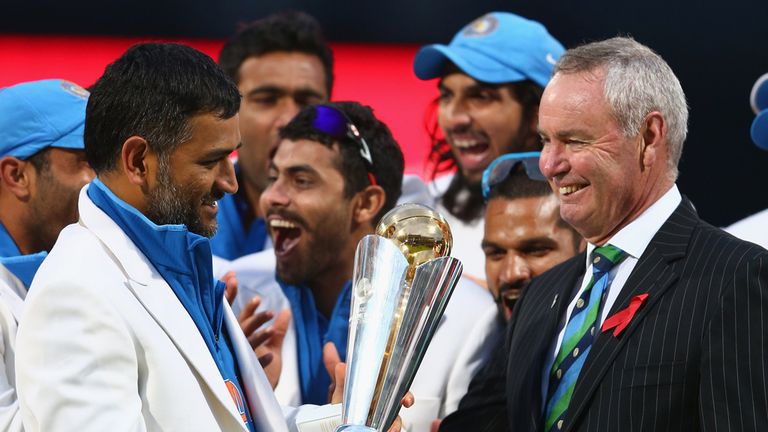 Rain throughout the afternoon in Birmingham meant the match was reduced to a 20-over contest, and further downpours during the India innings - in which they posted 129-7 - made the pitch more difficult to bat on as the game wore on.
England eventually fell short as a late-order collapse saw them finish on 124-8.
"The little bit of shower really helped us, I think the ball was gripping later on and it was because of those showers," said Dhoni, who was always confident his side could defend the modest total.
"It's important to be positive. I said let's look for a good start, that's something that's very critical, don't look at the result.
"The first and foremost thing was don't look up, God is not coming to save you, you have to fight it out. We're the number one ranked team, lets play like that. If we lose, they have to score the runs and we won't make it easy for them."
Sweet
Virat Kohli - who top-scored with 43 in India's innings - admitted it was a "sweet" victory for India.
"This victory is sweet, especially beating England on their home ground. We had some bad memories in India but this victory is really nice and the guys have been playing beautiful cricket and really deserve this win," he said.
"Even the warm-up games for us are important because if we lose one then people start saying we can't play overseas. The guys winning seven games out of seven and showing their character like we did, and the way we won those games everyone's really really happy."
The batsman feared the worst when Eoin Morgan and Ravi Bopara steered the hosts to 110-4 - only for the well-set pair to then fall in successive deliveries from Ishant Sharma.
"When Ravi Bopara and Eoin Morgan were smoking it all over the park we really thought we were out of it, but Ishant Sharma came back beautifully and got two wickets in two balls. That's how cricket goes, the game turns in in two balls and we took advantage of it," he added.