Shane Warne pays tribute to 'humble' Sachin Tendulkar after witnessing his final innings
Shane Warne says Sachin Tendulkar's ability to deal with extraordinary pressure marked him out from other greats.
Last Updated: 15/11/13 3:08pm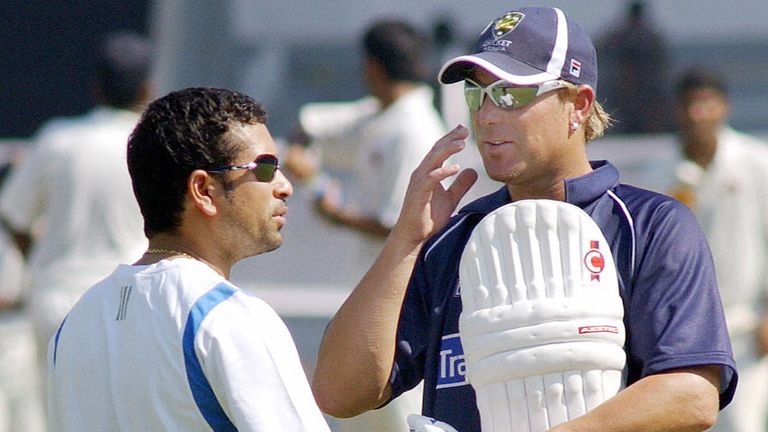 Warne was at the Wankhede stadium to witness Tendulkar make 74 in what is likely to be his final Test innings for India.
Tendulkar, who is retiring after his 200th Test, was denied a century when he edged Narsingh Deonarine to Darren Sammy at first slip, prompting an exodus of distraught India fans from the Wankhede stadium.
But Warne says he will remember Tendulkar not just for his weight of runs, but for his conduct while batting and away from cricket.
"We played against each other for 20 years, but away from the cricket he's very humble, very softly spoken," Warne told Sky Sports News.
"We spent a lot of time over dinner listening to music, talking cars - the friendship and respect we have for each other is what I will take away from him.
"As a cricketer, he was the best batsman I ever played against. You can look at his skills and his numbers, but it was the way he did it, with the expectation of a nation. The way he handled himself on and off the field, he was a real credit to the game, himself and India.
"Everyone will miss him. I don't think the bowlers will miss him, but the world of cricket will miss him."
Tendulkar had looked in fine touch before getting out and Warne was proud to have experienced a special Mumbai atmosphere.
"What people who haven't been here don't understand is the passion for the game," he added. "You have to remember there are a billion people here and they all love cricket. The passion for the game is amazing. You couldn't hear yourself think. It was an amazing atmosphere and it was special to say you were here for his final innings."
"For the Little Master to go out and bat like he did today, it was like winding the clock back. It was like watching him all those terrible years ago when he used to smash us all over the park.
"It was fantastic. I think even the West Indies wanted him to get a hundred. He was superb and we're all going to miss him.
"If he does bat again it will have been a good Test match but I don't think he will. This was the occasion to celebrate the man for being so good and for what he has given the game.
"He'll be pretty proud, happy and relaxed that he got 70-odd today."