South Africa honour Nelson Mandela with one-day win over India
South Africa captain AB de Villiers dedicated the 134-run win over India in Durban to Nelson Mandela.
Last Updated: 08/12/13 6:26pm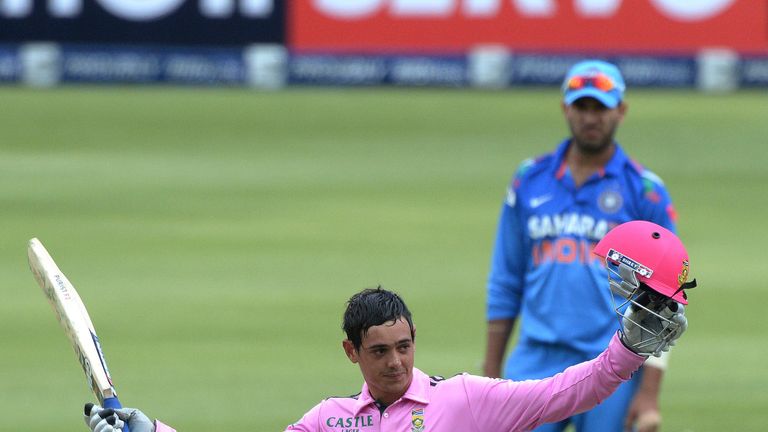 Quinton de Kock and Hashim Amla both scored centuries in Durban as South Africa's cricketers paid tribute to their former president, who died on Thursday, in style.
De Kock scored his second ton in as many matches as the Proteas posted 280-6 before South Africa's seamers secured an unassailable 2-0 series lead when they bowled out India for just 146.
"It was a very emotional day. I'm just glad that we came out here and played some good cricket in front of a very good Durban crowd," said De Villiers.
"Like I said this morning it's all about Madiba, and it's nice to give him a win in memory of him."
Both teams wore black armbands and there was a moment's silence prior to the national anthems to honour Mandela.
"When you think of Nelson Mandela only good things come to mind," de Villiers said in a public address prior to the match.
"I think of words such as inspiration, role model, honour, forgiveness and Madiba magic. I consider myself very fortunate to have grown up in the Nelson Mandela era.
"I clearly remember the 1995 Rugby World Cup where the Madiba magic played a huge role in us winning that trophy. It was a huge turning point for South Africa and for all of us as South Africans.
"With the passing of Madiba let us now more than ever stick together as a nation. We owe him that much."