BCCI chief told to quit by Supreme Court of India
The Supreme Court of India has told Indian cricket board chief Narayanaswami Srinivasan to step down.
Last Updated: 25/03/14 11:54am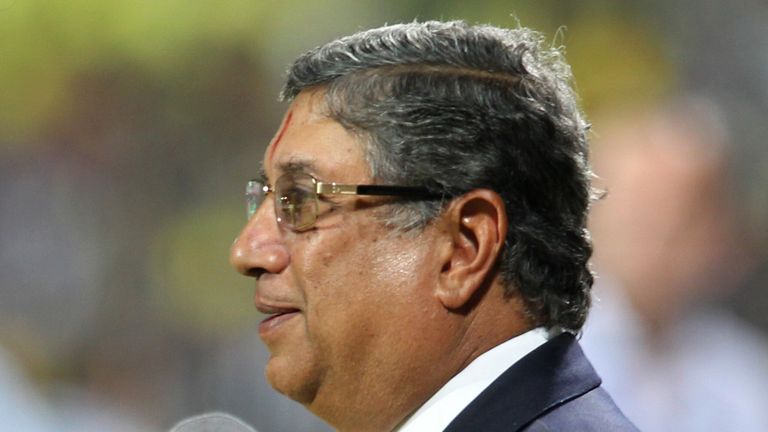 The court says Srinivasan - who is also the chairman-designate of the International Cricket Committee - must resign or be forced to quit to ensure a fair investigation into charges of match-fixing in the Indian Premier League.
Srinivasan's son-in-law, Gurunath Meiyappan, was indicted last month on charges of betting and passing on information to illegal bookmakers by a committee investigating match-fixing in the IPL.
Supreme Court Justice AK Patnaik said if Srinivasan does not step down voluntarily from the Board of Control for Cricket in India (BCCI), the court will order his removal.
"Why is Srinivasan sticking to his chair? If you don't step down, then we will pass an order," Patnaik said.
The court will reconvene on Thursday and Srinivasan has so far not commented on the court's decision.
Declined to comment
The ICC has declined to comment on the latest development, saying it was an "internal matter" for the BCCI.
The IPL fixing controversy erupted last year after several cricketers, including Test fast bowler Shantakumaran Sreesanth, were arrested by Indian police for allegedly giving away a minimum number of runs in exchange for money from bookies.
Srinivasan's position on the BCCI has been considered untenable since a three-member committee headed by Justice Mukul Mudgal ruled that his son-in-law - the Chennai Super Kings team principal - had been guilty of being in touch with illegal bookmakers in its report forwarded to the Supreme Court.
The finding came after the Bombay High Court last year referred to the two-member BCCI panel that initially cleared Meiyappan of his charges as "illegal and unconstitutional."
Srinivasan said that Meiyappan was "just a cricket enthusiast" even though he was seen regularly at players' auctions and in the team dugout.
Meiyappan spent two weeks in jail last year before being granted bail.