MS Dhoni says England have the ability to return to form in Test cricket
Last Updated: 08/07/14 5:18pm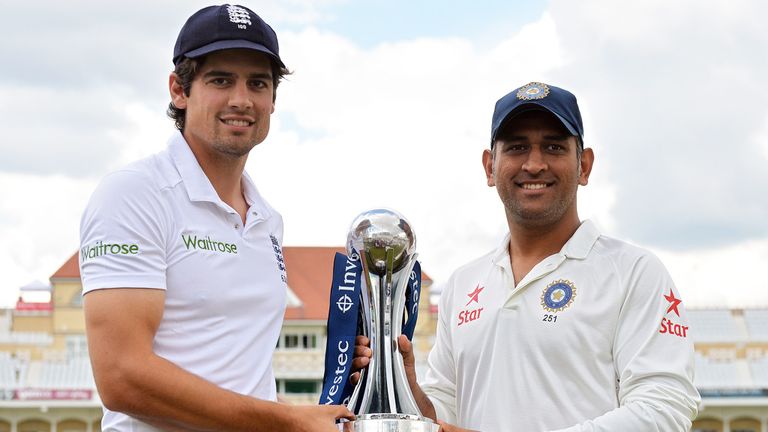 India captain MS Dhoni thinks England will prove to be dangerous opponents in the upcoming five-match series.
The first Test gets underway at Trent Bridge on Wednesday and India will be desperate to fare better than in 2011, when they were hammered 4-0 in a four-match series.
That impressive victory took England to the top of the world Test rankings but they enter this series in far worse form, having been beaten 5-0 in Australia over the winter before losing 1-0 to Sri Lanka in a two-match series back on home soil this spring.
However, Dhoni says the tourists are wary of a revival from their hosts over the coming weeks.
"When it comes to international cricket, there comes a phase when every team does really well, and a phase when they won't do too much, or move in the right direction," said the experienced 33-year-old.
"I would say it is a phase that every team goes through, even the mightiest of teams.
"Once you dominate, you then go through a phase when you don't do so well. It may be the form of the players, or a few of the players moving out and new players coming in.
"But you definitely pass through that, and I feel the England side has very good talent and very good players, so it is just a matter of time before they come back and perform."
India's batting line-up is set to feature a string of players who lack experience of Test match cricket in England and Indian batting great Rahul Dravid has been giving them the benefit of his expertise.
"He has been with the team and he has shared his experience," said Dhoni.
"We wanted a kind of mentor with the side, who can share his past experiences over here.
"He is not talking only about the technical things but he has been interacting with the youngsters. They are comfortable about talking to him.
"We noticed that in South Africa. He was part of the commentary team and they'd go up and approach him to have a chat, whether it's cricket or something else." 
Watch England v India from Trent Bridge live on Sky Sports 2 from 10.30am this Wednesday.