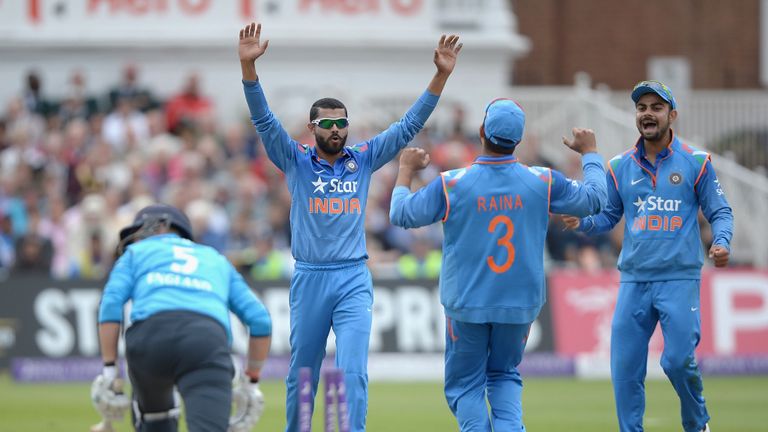 India have risen to the top of the International Cricket Council's ODI rankings amid a convincing two-nil series lead over England.
Former number one Australia, meanwhile, have slipped to fourth position after an historic three-wicket defeat to Zimbabwe on Sunday. South Africa and Sri Lanka currently occupy second and third spot respectively.
The Indians will retain the coveted top ranking if triumphant in both of the final two fixtures of the five-match series against the English - and the Australians beat the Proteas at least once in the ongoing tri-series in Harare.
The South Africans, however, will leapfrog India if victorious in Tuesday and Thursday's games against the Aussies and Zimbabweans respectively - and Saturday's final.
"With five ODIs to be played this week, there is potential for further changes at the top of the table, depending how these matches pan out," read a statement from the ICC. "For world champion India to finish as the number-one ranked side, it needs to win the remaining two matches against England and then hope Australia beats South Africa either on 2 September or 6 September (if both the sides clash in the final).
"In this scenario, India will be on 115 ratings points, followed by South Africa, Australia and Sri Lanka (depending on the outcome of the remaining matches in the triangular series)."
India held the number one ranking in January ahead of the tour of New Zealand. They didn't win one ODI in Hamilton and surrounds, though.
ICC ODI rankings
1. India - 114 points
2. South Africa - 113 points
3. Sri Lanka - 111 points
4. Australia - 111 points
5. England - 106 points
6. Pakistan - 100 points
7. New Zealand - 98 points
8. West Indies - 96 points
9. Bangladesh - 69 points
10. Zimbabwe - 58 points
11. Afghanistan - 42 points
12. Ireland - 33 points