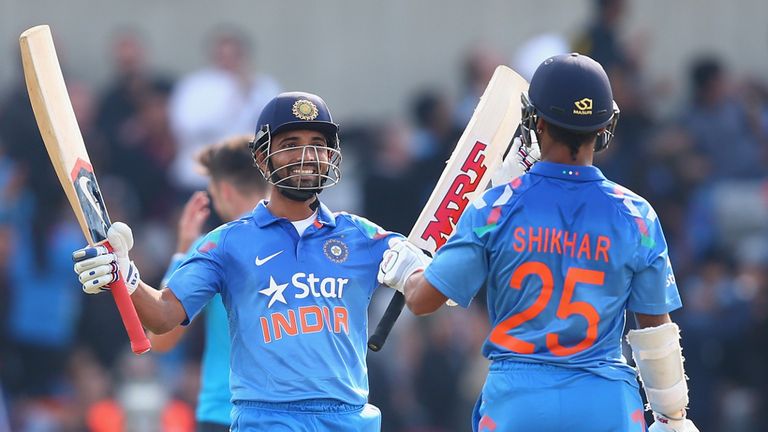 Ajinkya Rahane has credited Ravi Shastri for helping him score his maiden one-day international at Edgbaston.
Rahane admitted he endured a sleepless night after his disappointing dismissal in the second one-day clash against England in Cardiff.
He crafted a confident 41 at the SWALEC Stadium before a lapse in concentration led to him being stumped off James Tredwell.
Rahane also looked in good touch as he made 45 after being promoted to open the innings in place of the injured Rohit Sharma in the third encounter at Trent Bridge.
But he kicked on to a big score in Tuesday's one-sided victory in Birmingham, cracking 106 from 100 balls as India chased down England's paltry 206 with almost 20 overs to spare.
"It was really special," he said. "After two forties in the first two ODIs, and the way I got out, I was really hurt.
"I couldn't sleep after the first game because of the way I got out, stumped. It was a really silly mistake of mine.
"I was really determined in the third ODI. Once I crossed the next 10 runs after 40, my natural game took over."
Extra focus
Rahane was grateful for the advice of former India captain Shastri, who was brought in by India as team director after their 3-1 Test series defeat against England.
"Ravi Shastri was very helpful," said Rahane. "He just asked for a little extra focus between 40 and 50 - 'once you cross 50, your instinct will take over'.
"My focus in the third ODI was to focus that bit harder once I crossed 40 - at least for those 10 next runs. After that I backed my instinct.
"I was batting well in the first two ODIs, but got out. That hurt me a lot - because if you are batting so well in good conditions against this attack, if you get a big score, it is good for my confidence and team morale.
"It hurt the team chances too that I was not converting my starts."
Rahane is now hoping to complete a 4-0 series victory in the final clash in Leeds on Friday.
He added: "We are really happy the way we played our cricket in the last three ODIs - the approach will remain the same.
"We will go in with the same intensity. We are not relaxed. It has been a great team effort overall ... everyone is contributing to the team. That is a great sign for us."
Don't miss the fifth and final one-day international at Headingley on Friday. Live coverage starts at 10am on Sky Sports 2.