New Zealand out of their depth against South Africa, said Jeremy Coney
New Zealand were 'embarrassing' on day two of the second Test with South Africa, said Jeremy Coney.
Last Updated: 12/01/13 4:53pm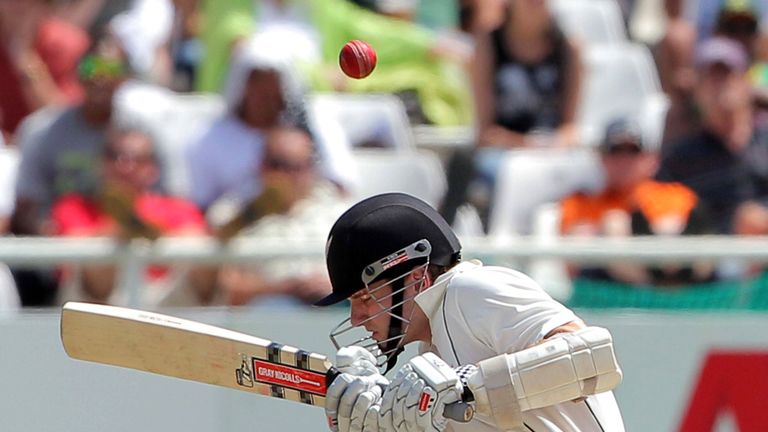 The tourists managed just 45 in their first innings of the first Test in Cape Town and barely improved on that effort with their opening knock in Port Elizabeth, finishing on 47-6 after South Africa had declared on 525-8.
Only captain Brendan McCullum offered any resistance at all for New Zealand, scoring 13 off 61, before throwing his wicket away late in the day, flailing at a wide ball from Robin Peterson (2-2).
Former Black Caps captain Coney despaired at his national side at stumps and described them as totally out of their depth.
"It was embarrassing," he told Sky Sports.
"Demanding and relentless bowling exposed technical deficiencies and, with the top order swept aside, the middle order were exposed because of it and they imploded once again.
"Opening is a specialist position and at the moment New Zealand don't have any openers; they have middle order players filling in those positions who look to hit the ball first rather than let it go.
"The players just aren't up to it. Against a top class attack on a pitch that's doing a little bit they've been ruthlessly exposed."
In the first Test the tourists mustered some pride with a battling 275 - although it wasn't enough to make the Proteas bat again - but Coney doubts they'll be able to reproduce a face-saving total like that again when the inevitable follow on comes on day three.
"The pitch went very flat for New Zealand in the last Test when they got 275, but I can't see that happening on Sunday," he said.
"If South Africa had put New Zealand in to bat on day one the game could well be over by now."
Former England batsman Mark Butcher had sympathy for Coney and the inexperienced members of the Black Caps side who, he says, have been dropped in at the deep end due to a lack of resources.
"If you play for South Africa, Australia or England you can expect to come in as a young batsman and cut your teeth at number five or six whilst the senior players do their thing above and around you," he said.
"New Zealand don't have that luxury at the moment - they are missing some senior players - so the youngsters are sent in there in the harshest of conditions and, once again, they've not been up to the task."
Cautious
However, Butcher credited South Africa for their careful approach with the bat on a potentially tricky wicket and applauded Dean Elgar (103) who made it to three figures along with Hashim Amla (110) and Faf Du Plessis (137).
"South Africa realised the longer they batted the worse the pitch was going to get," said the former Surrey stalwart.
"They were cautious this morning and expanded later as the New Zealanders tired - and Elgar took full advantage of the situation.
"When you're batting at number seven for South Africa behind Hashim Amla, Jacques Kallis and AB De Villiers, you walk to the crease with the opposition on their knees.
"Having made a pair in his first Test match against Australia, he took the helpings on offer today and that will give him an enormous amount of confidence.
"It's not easy when you start Test cricket with a couple of noughts so he celebrated pretty ecstatically."