Mark Butcher says a two-division Test game would not aid struggling nations
Mark Butcher reckons a two-tier Test match game would tarnish the quality of international cricket.
Last Updated: 14/01/13 4:10pm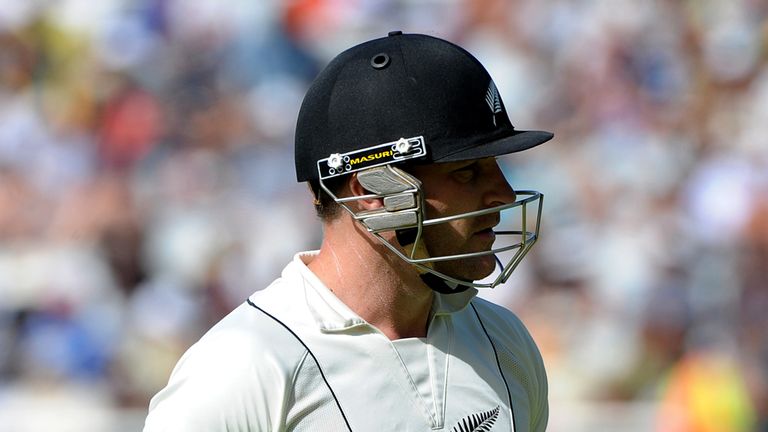 New Zealand's innings-and-193-run defeat to South Africa in Port Elizabeth - which followed the Kiwis' inning-and-27 run loss in the first Test in Cape Town - prompted Butcher and fellow pundit Jeremy Coney to debate whether the five-day game should switch to a two-tier promotion and relegation format.
But the former England batsman says separating the stronger Test nations from the weaker would not benefit international cricket and could actually damage it.
"I am usually Darwinian in my attitude towards issues like this and would say if you can't cut it in the kitchen then it is too hot for you," said Butcher, who averaged 34.58 in his 71 Test matches.
"But I really do feel that if you are going to have Test match nations there should be a community of support that helps out teams going through tough times - as New Zealand are at the minute - and bring them back into the fold.
"You could argue that association members like Ireland and Afghanistan could eventually usurp some of the current Test teams, but to have a continuous up-and-down cycle is not the answer and I think it would dilute the quality of the game."
Ex-New Zealand captain Coney shares Butcher's scepticism of a two-league scheme and says deciphering why struggling teams are not performing is more important than placing them in a lower tier.
"New Zealand love playing at home to India for money, Australia because they are the next-door neighbours and England because of money and history," said Coney, who featured in 52 Tests.
"They are three key series and if you took them away and put New Zealand in a second division - which is what they would be in at present as they are ranked eighth - they could wither and die.
"New Zealand are in a low cycle at the moment but all teams go through cycles - England were at the bottom of the rankings in 199/2000 - and New Zealand have beaten Australia in the last year to draw a Test series and also drawn with Sri Lanka.
"So we should be working out why teams are failing in this way, as that is the way they will pick up, get better and challenge the bigger sides."
Stiffer
New Zealand return to the Test arena in February when they host England in a three-match series and Coney, whilst scathing of the Kiwis' meek displays in South Africa, thinks his nation will present Andy Flower's squad with a challenge.
"New Zealand have a lot of work to do but I think that they will be a lot stronger against England," said Coney, who scored three Test tons as well as 16 half-centuries. "They will pick six or seven of this side, but they also have the 'better half' of the team to come back in.
"The likes of Ross Taylor, Jesse Ryder, Daniel Vettori and Tim Southee should return and that will make them a stiffer side, while they will also be playing in familiar conditions.
"But what you can't deny is that this series with South Africa has been an entire mismatch and mercifully it is now over. We should be thankful that there is not a third Test as who would want one?
"New Zealand have suffered two innings defeats and five of their top seven batsmen are averaging below 20 after four innings and only BJ Watling and Dean Brownlie are averaging above 40."
Edge
South Africa ripped the Kiwis apart on the morning of day four to secure victory; Graeme Smith's charges taking the visitors' final five wickets for eight runs during a 34-ball spell after unleashing the new cherry, with Dale Steyn (3-48) and Morne Morkel (2-36) the men inflicting the damage.
Butcher hailed the seam-bowling display as "gruesome" and "bullying" and reckons the Proteas, who hold a six-point buffer over England at the top of the ICC Test rankings, possess the best pace attack in world cricket.
"I think you can put Steyn and James Anderson up there as equals," added the erstwhile Surrey stroke-maker.
"Anderson doesn't have the same speed as Steyn, but in terms of skill, being able to remove well-set batsmen and being able to use the new ball in a fabulous way with in-swing or out-swing, there is not a lot between them.
"However, any two of Morne Morkel, Vernon Philander and Rory Kleinveldt probably edge it over the next two seamers England have.
"But England have the bonus in the spin department, as if you are in subcontinent conditions or even in South African conditions, Graeme Swann is a better bowler than Robin Peterson."