Brendon McCullum backs Ross Taylor to shine against England
New Zealand captain Brendon McCullum expects the returning Ross Taylor to play a significant role against England.
Last Updated: 08/02/13 2:01pm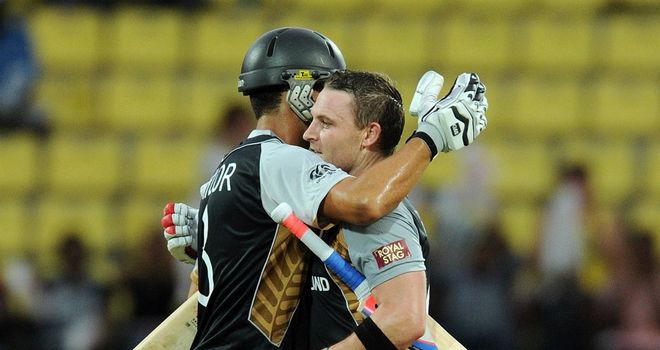 Taylor missed the Black Caps' tour of South Africa following a row over the captaincy, which ultimately saw head coach Mike Hesson replace him as skipper in all formats.
But Taylor is now back in the fold and McCullum is backing him to produce his best in the first of three scheduled Twenty20 internationals at Eden Park on Saturday.
"He's come back in happy and smiling," said McCullum. "Ross is a fabulous cricketer who has proved in his career so far his ability to step up time and time again.
"That's what he expects of himself, and we do too, so we're expecting a big performance out of him, and it's good to have him back in the fold."
McCullum insists that he and Taylor have never been at odds with each other and this will not change as a result of the captaincy issue.
Healed
"There's not too much to discuss from our point of view," said McCullum. "There was never really an issue between us. It was obviously an uncomfortable time for Ross and other people concerned. But as far as our relationship goes, we're fine. We're looking forward to getting out and playing some cricket together."
McCullum is also confident that the relationship between Hesson and Taylor is strong enough not to undermine the team.
"They seem to be working professionally together as well, and I'm sure over time everything will be healed," said McCullum. "Within the team, it's been dealt with really well.
"The inner sanctum of the group is working well together, and it's a cohesive unit so far. We're comfortable where it sits. Everyone is fine. Ross has come back into the group, and fitted in seamlessly.
"We can't let any off-field issues have an impact. We're not good enough as a team to let those sorts of distractions become so."