Leading light
New Zealand captain Brendon McCullum is aiming to again be a thorn in the side of England this summer
Last Updated: 10/05/13 7:57am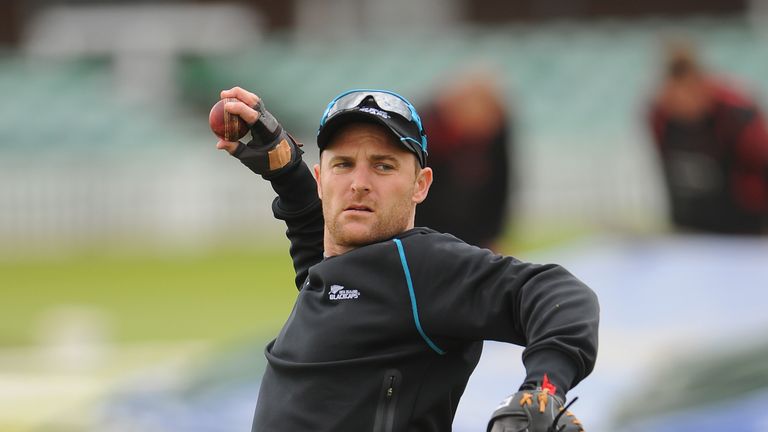 The Kiwi captain hit three half-centuries in four innings against England back in March, following a similarly prolific output in the preceding limited-overs encounters.
McCullum, whom only part-time medium-pacer Jonathan Trott managed to shift for under 50, finished the three-match series with an average of 82.66.
Even more remarkable was his 92.53 strike rate - a statistic almost more akin to the Twenty20 format, at which he also excels, than to Test cricket.
McCullum's run-rate was very nearly 30 clear of any other front-line batsman on either side, including England's admirable wicketkeeper Matt Prior and approaching double that of the much-vaunted Kevin Pietersen.
The latter will play no part because of injury in two Tests at Lord's and Headingley in which England can hope that home-leg advantage may eventually give them the edge at the end of five matches spread over three months and two ends of the earth.
If Alastair Cook's hosts are to achieve that, at the start of a season of unprecedented high profile before a home Champions Trophy and then the first of two back-to-back Ashes series, they will need to quell McCullum.
His impact on the 0-0 stalemate in New Zealand was not just as an irrepressible shot-maker but as a captain who mixed short-term adventure and imaginative field settings to significant effect with a realistic overview of his team's potential.
England could make little headway against well-marshalled opponents on benign surfaces, and can expect McCullum to have updated his gameplan to allow for the probability of spicier conditions - certainly at Leeds, if not Lord's.
IPL stint
McCullum's own preparations have taken in a stop-off at the Indian Premier League with Kolkata, for whom his participation was compromised first of all by injury and then selection policy.
In his spectator role, he saw his IPL record score of 158 not out - in the first match of the inaugural competition, and a preface to New Zealand's last tour of England in 2008 - overhauled by a Chris Gayle spectacular for Bangalore against Pune last month.
McCullum responded with modesty and admiration, but for England it just means he will arrive here soon with one more point to prove - albeit, initially, in an incomparable format.
"I am delighted that somebody as destructive as Chris has now taken over," he said. "I knew all along that it would be broken - and that it had to be Chris."
The words were typically well chosen, but it is the ones McCullum uttered in Auckland a little earlier that should leave England supporters in no doubt that their team will be up against an outstanding opponent - whatever the hemisphere.
McCullum finished the third Test pretty much on one leg, having limped through the final day with his sore hamstring.
But after New Zealand had come within one wicket - Prior's or last man Monty Panesar's - of only their second home series win over England, their captain was not switched on by inquiries about his own well-being.
McCullum's concerns were with his team's endeavour, after their emphatic defeat in South Africa at the start of the year, and in making sure he gave due credit too to England for their resilience.
"I'll make sure I go round all the lads," he said. "I'm incredibly proud of the way they've performed in this series and confronted one of the giants of world cricket.
"Obviously there's disappointment, but it's nice to know some progress has been made. We were one ball away from winning a Test match. But they found a way out."
England will once more have greater ambitions than that, of course - and so too will McCullum.