New Zealand pace bowler Mitchell McClenaghan in confident mood
New Zealand bowler Mitchell McClenaghan admits an ODI series sweep against England would be a major confidence booster.
Last Updated: 05/06/13 7:11pm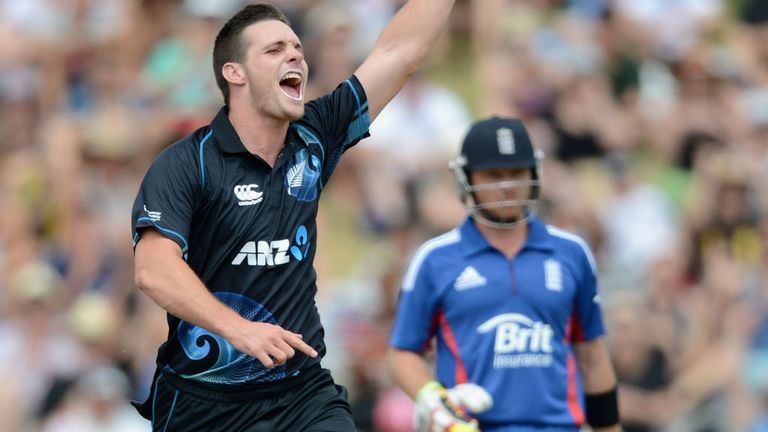 The two sides face each other at Trent Bridge on Wednesday with the tourists holding an unassailable 2-0 lead over their hosts in the three-match Natwest Series.
Led by the batting heroics of batsman Martin Guptill, who scored unbeaten centuries in New Zealand's victories at Lord's and the Ageas Bowl, Brendon McCullum's side have posted a marker ahead of the eight-nation Champions Trophy.
New Zealand's first game in the tournament comes against Sri Lanka in Cardiff on June 9 and McClenaghan feels they are benefiting from a positive run of form.
"Three-nil would be fantastic and would give us a lot of momentum going into the Champions Trophy," the pace bowler told Sky Sports.
"Momentum is a key part of our success but we have been led well and have been positive as a group and we know we can win now.
"I think it's been the little things (that have made the difference). Our batsmen have run hard and put pressure on the bowlers.
"We have tried to come out with our fielding and keep up the pressure, stopped the twos and cut out singles and that's been the massive difference.
"Obviously with Guptill scoring back-to-back hundreds, that has really set us up."
Force
Success in the limited-overs format has come on the back of a disappointing Test series, which saw England claim a 2-0 series win.
But McClenaghan was keen to point out that New Zealand have always been a force to be reckoned with in 50-over matches.
"We are a confident one-day side with a lot of experience coming back in," he added.
"We will build as a Test nation and I can see us progressing well in that format of the game in the future but right now we are an established, confident one-day side."
McClenaghan admits England have lacked the experience and quality of injured pace duo Stuart Broad and Steven Finn, but insisted their opponents still have enough quality in depth to cause problems.
"Their core group of bowlers are all quality bowlers and on their day they can run through a side," he said.
"Obviously, the addition of Finn and Broad would be a boost to their side but I feel like we have the batsmen and the men in form to combat that."