New Zealand batsman Martin Guptill doubtful for T20 clash with England
New Zealand are likely to be without batsman Martin Guptill once more for the second T20 clash with England on Thursday.
Last Updated: 26/06/13 11:17pm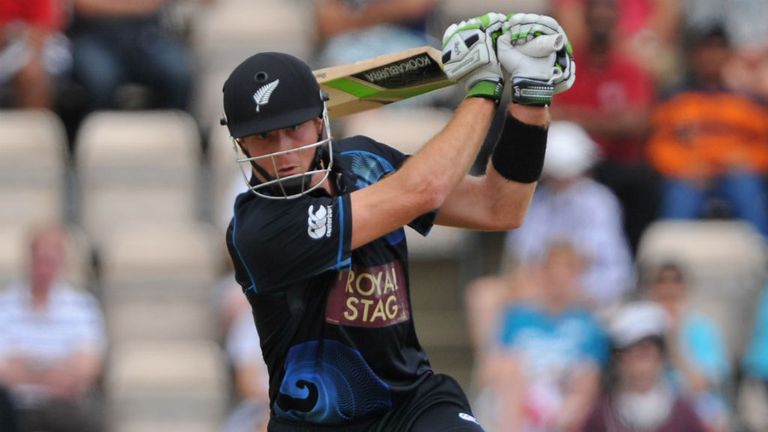 The opener missed the Kiwis five-run victory at The Oval on Tuesday with a hamstring problem and captain Brendan McCullum has admitted Guptill is expected to be absent again.
The second game at The Oval is the final match of New Zealand's tour and McCullum believes playing the 26-year-old would represent an undue risk.
"We need to assess Martin, he wasn't great today," he said. "The risk reward to roll him out for last game - we need to be wary of that."
Guptill played a key role in New Zealand's 2-1 ODI series win over England earlier in the tour, hitting back-to-back centuries, but struggled to make an impact in the Headingly Test match, having been left out at Lord's.
Rethink
James Franklin opened alongside Hamish Rutherford in Guptill's absence but McCullum suggested a rethink may be needed if the big-hitting batsman isn't fit.
"If Martin is out we will have to look at that opening spot," McCullum said. "I think James has done all right when he has opened for us. He got out first ball - that can happen."
The New Zealand skipper also praised Rutherford for his man of the match performance, claiming his innings gave the rest of the team confidence to play their shots.
"At the start it didn't feel like a 200-run wicket," he added. "Then Hamish played a few shots and that [confidence] permeated through the order.
"The way he payed showed us that going for your shots was the right way to go about it on that wicket."
Defending a total, even one of 200 plus, is never easy in the shortest form of the game and McCullum was pleased with the way his youngsters, in particular bowler Corey Anderson and wicketkeeper Tom Latham, coped with the challenge.
"I thought Corey did a brilliant job at the end in his last over," McCullum said.
"As for Tom Latham we gave him the gloves because it was an opportunity for him in a pressure situation against a good team in front of a big crowd.
"I thought after he missed that stumping he did a really good job and he contributed too with his batting at the end."