New Zealand stay unchanged against West Indies, who have Shane Shillingford banned
New Zealand will field an unchanged side for the final Test against the West Indies starting in Hamilton on Thursday.
Last Updated: 18/12/13 8:49am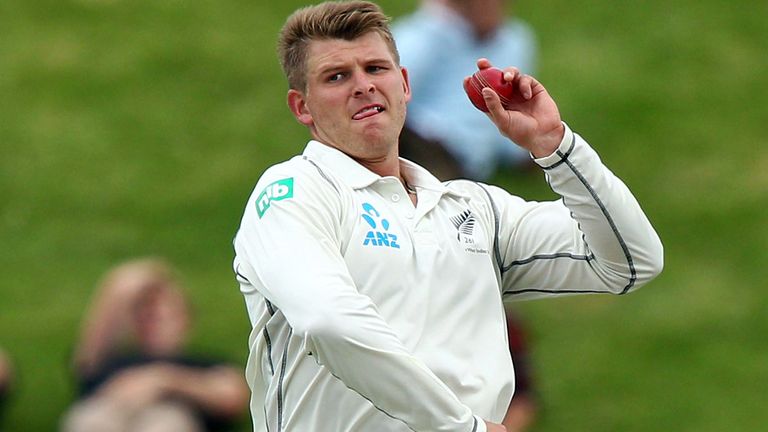 The Black Caps are chasing back-to-back victories for the first time in nearly six years and are hot favourites to seal the three-match series after halting a year-long win drought by winning the second Test inside three days.
The last time New Zealand won consecutive Tests was against Bangladesh in January 2008 and they last managed the feat against a top eight nation two years earlier when playing the West Indies.
After rain ruined a likely home win in the first Test of the series, New Zealand won the second by an innings and 73 runs.
"We're going to play the same team," , captain Brendon McCullum said after all-rounder Corey Anderson came through a fitness test unscathed following a shin problem.
"It will give the guys the opportunity to build on what we've done in the last two Test matches."
'Mugginess'
Although the line-up was decided, McCullum remained uncertain whether he would bat or bowl first if he won the toss, although the pitch is expected to hold promise for the seam bowlers.
Seddon Park, where New Zealand have lost their past three Tests (against Australia, Pakistan and South Africa), has proved an enigma for the team winning the toss.
Traditionally, the successful captain elects to bowl, although six of the 13 matches to produce a result at the ground have been won by the team batting first.
"Who knows how it will play but I'm expecting it to be a good Test wicket," McCullum said.
"The important thing in Hamilton is the overhead conditions and the mugginess which is around. If there is some cloud cover then the ball can swing quite a lot.
"We've seen in previous Test matches here that a lot of wickets can fall in one session. We've got to be mindful of that with bat and ball."
The West Indies delayed their team announcement as they weighed their options following the suspension of leg spinner Shane Shillingford after the International Cricket Council ruled his bowling action was illegal.
His absence has opened the way for off-spinner Sunil Narine to take the field.
"We have so many different scenarios on the table," captain Darren Sammy said, adding Shillingford's suspension would serve as a motivating factor for the team.
"We're going to go out and fight for one of our teammates and come up strong and look to hit back at New Zealand.
"It's going to take a big effort from us, especially from the way we have played, but it's not impossible."