Brendon McCullum celebrates place in New Zealand cricket history
Brendon McCullum celebrated becoming the first New Zealand batsman to score a triple century in Test cricket.
Last Updated: 18/02/14 11:44am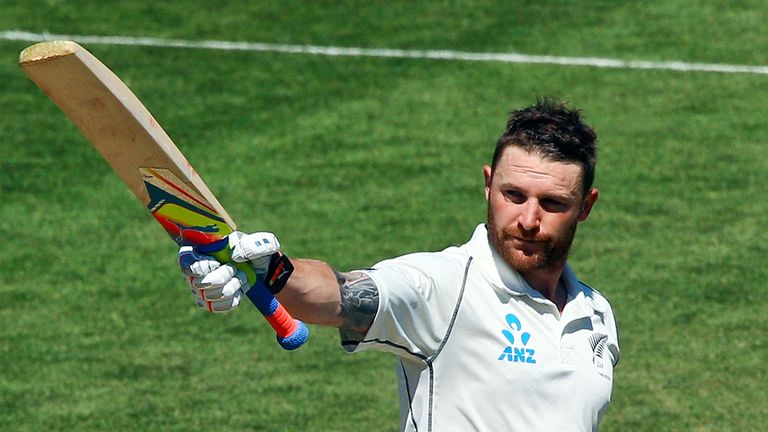 The veteran achieved the remarkable feat on the final day of the second Test against India in Wellington as the Black Caps secured a series-clinching draw.
McCullum started the day on 281, and he reached 300 with a dab off Zaheer Khan that earned him his 32nd boundary and a lengthy standing ovation from a vast crowd at the Basin Reserve.
His superb knock eclipsed the 299 that Martin Crowe scored against Sri Lanka on the same ground in 1991, and he admitted the bumper crowd made holding his nerve more difficult.
"I wasn't too bad until I saw the size of the crowd then every ball that I defended, left or got a single they would start cheering and it made me a little bit more nervous," said McCullum.
"That's probably when I understood the magnitude of the task at hand and the immense joy it gives fans of this cricket team to see guys succeed and see records broken.
"When 300 came up and the applause was ongoing for quite a while is really when it hit home to me that it was quite a significant achievement for a New Zealander.
"I'll certainly remember that for the rest of my life.
"I'm very respectful of all the guys I managed to get past today, Martin Crowe in particular who's held the record for over 20 years.
"I almost feel a little embarrassed to go past someone of that calibre, and Stephen Fleming and all the other names as well. It's incredibly humbling to put your name up there and score the first triple century for New Zealand.
"I watched Martin Crowe score his 299 and thought it would have been an amazing feat if he scored 300 but probably didn't quite understand how much it meant to the whole country.
McCullum enjoyed valuable support from BJ Watling and debutant Jimmy Neesham, who also cracked centuries to guide New Zealand to 680-8 and ensure the draw.
Outstanding
"It was what was required," McCullum added. "Thankfully I had partners at the other end who played brilliant innings. I thought BJ and Neesh, their innings were outstanding.
"We were obviously scrapping to save the Test and therefore win the series and we managed to get some partnerships under pressure and then kept batting and batting and batting.
"So it was pretty satisfying to get us out of trouble and claim the series win."
India captain Mahendra Singh Dhoni was left to rue a costly dropped chance offered by McCullum when he had made just nine.
McCullum and Watling put on 352 for the sixth wicket as New Zealand recovered from 94-5 on the third day, when the home skipper was put down by Virat Kohli.
"That was one of the partnerships that we had to break to get into the lower order batsmen," Dhoni said.
"From behind the stumps, you try to figure out how to get him out. You'll try everything from catching slips to catching covers to deep square leg to deep point. Bowling onto the pads and bowling outside off.
"Sometimes it works, sometimes it doesn't work.
"I think overall we'll accept that we were not able to get two batsmen out and they batted really well.
"We give credit to them but at the same time what really needs to be appreciated is the will and the way our fast bowlers tried to get the opposition out on a very flat wicket."