Tour over for Boucher
South Africa wicketkeeper Mark Boucher's tour of England has been cut short after he suffered a serious eye injury.
Last Updated: 10/07/12 1:02pm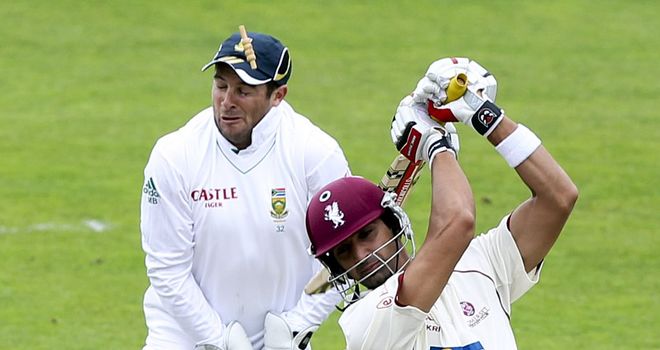 South Africa wicketkeeper Mark Boucher's tour of England is over due to a serious eye injury - and there are concerns about his long-term health.
Boucher was struck in the eye by a bail on Monday when leg-spinner Imran Tahir bowled Gemaal Hussain during the tour match against Somerset.
And following emergency surgery on Monday night, Boucher will now head home to continue his recovery from what has been described as a lacerated eyeball. The injury will be assessed on his return to South Africa.
Cricket South Africa announced on Tuesday morning: "Mark Boucher will be returning home from the tour. Selectors will name a replacement in due course."
The player has now been discharged from hospital.
Updating Boucher's condition, team doctor Mohammad Moosajee added: "Mark's surgery, which lasted nearly three hours, showed that he sustained a severe eye injury and although the surgeon was able to repair the eyeball, the sensitive nature of the injury makes it difficult to determine the extent of the long-term damage.
Recovery
"I spent the night with him in the recovery ward at the hospital and he has been overwhelmed by the messages of support and care he has received from all corners of the world.
"He will take no further part in the series against England and will return back to South Africa as soon as possible.''
Boucher may be replaced by the versatile AB de Villiers, who has previously provided cover behind the stumps in both Tests and one-day internationals, although South Africa may wish to send for specialist Thami Tsolekile.
A replacement will be named on Wednesday.
He received plenty of messages of support via the social-networking site Twitter, including from England wicketkeeper Matt Prior.
Prior wrote: "Just seen the newsabout @markb46. Very sad he's missing the series and hope he makes a full and speedy recovery. Go well mate #keepersunion."