Peterson warns England
Robin Peterson has warned England that South Africa will not be taking it easy after topping the world rankings in all three formats.
Last Updated: 30/08/12 8:05pm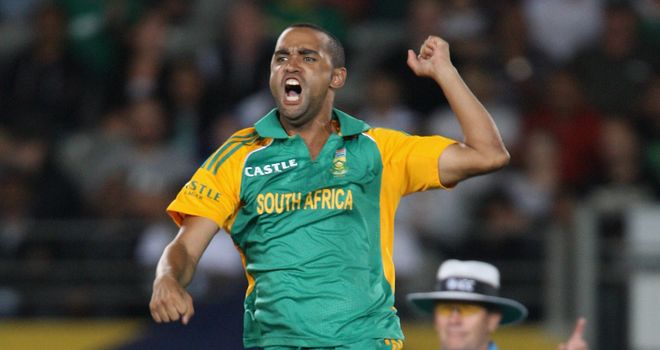 Robin Peterson has warned England that South Africa will not be taking it easy after topping the world rankings in all three formats.
The Proteas were already number one in the International Cricket Council's Twenty20 table before replacing England on the Test summit with a 2-0 series win earlier this summer.
The one-day international spot is up for grabs in the current NatWest Series and could swing back and forward after each game, but South Africa moved into pole position with a decisive 80-run win at the Ageas Bowl on Tuesday.
South Africa's hat-trick of top placings is a unique feat but not one that Peterson believes will side-track them when the teams meet again at the Kia Oval tomorrow.
Honour
"It is definitely a fantastic honour but the hard work only lies ahead for us now," he commented.
"We are pretty happy with the way we're going about our business at the moment, but we always say we are a team on a journey.
"We're not really settled at number one and we have other things we want to achieve as a team.
"It has kind of been a surprise (to top the ODI rankings) and I think it took England by surprise when they were too.
"We set certain goals for what we want to achieve but there's a long road ahead before we do that."
Peterson's awkward left-arm spin has caused England problems in the past and he enjoyed a notable success in Southampton when he toppled the off-stump of Ian Bell.
Bell was in fluent form with 45 off 40 balls at the time but was deceived by Peterson, who placed the ball on a testing length and found just enough turn to sneak past the Warwickshire man's bat.
Fortunate
Peterson admits it was an enjoyable moment but, after returning figures of two for 51 in his nine overs, he does not expect an easy ride for the remainder of the series.
"I was pleased with how things went the other night, the wicket suited spin bowling so I was fortunate," he continued.
"Bell is a quality player and whenever you can get one over a quality player like him you leave the ground with a happy feeling.
"He was batting phenomenally well. We all know the importance of Ian Bell to the England line-up so to do one over on him felt really good.
"The wickets might not assist me as much (in the rest of the series) so it might be a bit more challenging knocking over their quality players.
"Hopefully I can keep doing the business for my team."
He added: "Looking at England's record over the last while, they've been a quality team. You do get setbacks from time to time but they have the ability and the will to bounce back. We have to be on our game to be ready for what they are going to throw at us."