Jacques Kallis says South Africa still have time to win Brisbane Test
Jacques Kallis believes South Africa can force victory against Australia in the first Test in Brisbane.
Last Updated: 11/11/12 1:01pm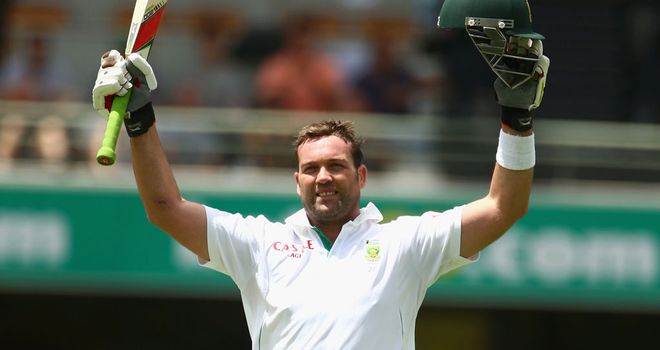 South Africa posted 450 in their first innings and took three quick wickets in Australia's reply before Michael Clarke (34no) and Ed Cowan (49no) steadied the ship to guide the hosts to 111-3 at stumps.
The second day was washed out and just two days are left, but Kallis - who top-scored for the Proteas with 147 - believes a result is still possible.
"If we can nip out a couple tomorrow morning and put some real pressure on Australia, who knows?" Kallis said.
"I think we've just got to give ourselves an opportunity, I think the game's far from dead. There's enough in the wicket as well. As long as we keep applying the pressure, that's all that we can do. If Oz play well, then fair enough."
Workload
Kallis is yet to bowl but he insists he is ready to go if called upon. "It's managing the workload as well, just got to be careful with that, but as far the body goes, it's alright for the moment.
Hashim Amla also scored a century as the Proteas piled on the runs but his innings was brought to a close with 104 on the board by an lbw decision that would have almost certainly been overturned had South Africa appealed.
Kallis was at the other end and confirmed he suggested Amla refer the decision.
"It was a chat that we had, I said I thought it was the height that was maybe the issue there but he felt it wasn't going to go over because the umpire had given it," Kallis said.
"It was a tough one to call, maybe I could have said just refer it because you do have two, so maybe I could take a bit of blame for that as well."
Australia fast bowler Ben Hilfenhaus admits that, after their poor start, much depends on opener Cowan and skipper Clarke on Monday.
"It wasn't ideal but the partnership we have at the moment is the crucial one for us. Hopefully, they can continue that tomorrow and make our way closer to their total."