Gary Kirsten is keen to continue South Africa's success
Gary Kirsten has proved to be a cricket coach with a golden touch - and he says there's more to come from South Africa.
Last Updated: 18/01/13 1:28pm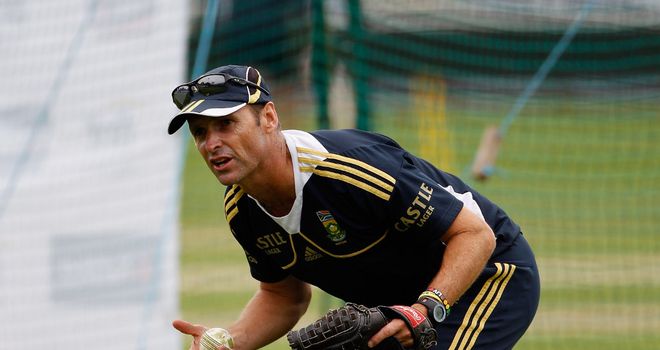 Kirsten took India to No 1 in Test cricket as well as to World Cup glory in 2011. Now, in less than two years South Africa has become entrenched as the best in the world in Tests, and pose a real challenge of forming a dominant one-day team.
Looking ahead to a three-match series against New Zealand, starting on Saturday, Kirsten said: "We would like to perform at a higher level than we have in one-day cricket
"We've been okay but we haven't been outstanding."
But being "okay" is not good enough for Kirsten. He added: "We believe that we are capable of being a unit that can really perform at one-day level."
While South Africa top a fluctuating rankings list, Kirsten is aware this isn't enough, and said he wants the Proteas to do well in the Champions Trophy in England in June, with his eyes firmly on the World Cup in Australia and New Zealand in 2015.
"Winning one of these events is more important in South Africa than in other countries," he said.
"We have a great opportunity this year. We have potentially 23 one-day internationals this year and there will be a lot more emphasis on ODI cricket, which everyone is excited about."
Important
Kirsten said his priority against New Zealand, who they face in Paarl in the first of three one-dayers from Saturday, is to win the series- using a rotation of leading players and particularly the bowlers.
"We're still exploring," he said. "With a Test series against Pakistan coming up, we don't necessarily want to use our top bowlers in every game but it is also important that we have a good understanding of who our best players are."
Kirsten said rotating key bowlers like Dale Steyn and Morne Morkel was to focus on mental freshness and not necessarily about physical fitness.
"Test cricket is our number one. We will always play our full strength team in every Test we play," he said.
"But in other versions of the game something has to give and we are mindful of how we manage the workload, particularly of our bowlers. They are physically fit enough to play in every game but it is more about mental fitness. I want every player to be 100 percent mentally ready when they play for South Africa."