Vernon Philander takes over from Dale Steyn at top of ICC rankings
Vernon Philander has replaced South Africa team-mate Dale Steyn at the top of the ICC Test bowling rankings.
Last Updated: 23/12/13 3:41pm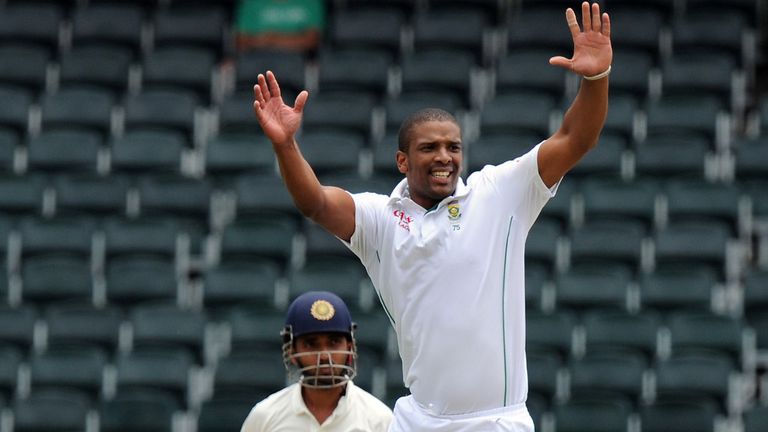 Steyn had been rated the world's top bowler since July 2009 heading into the opening Test against India, but he was upstaged by his fellow seamer in the thrilling draw in Johannesburg..
Philander claimed match figures of 7-129, while Steyn picked up only one wicket at a cost of 165 runs as he relinquished top place in the rankings.
"I am happy with my position as the number one ranked Test bowler," said Philander. "It is an honour to have been bowling alongside a champion like Dale.
"It's been a great couple of years for our squad, and I have been fortunate enough to contribute to our success on the field.
"What has been the most pleasing though for us has been the all-round contribution from everyone in the squad that has been the main reason for our success over the last few years.
"Needless to say, it is always easier to be at the top of your game and successful when you are part of a winning team."
Further down the bowling rankings, England spinner Graeme Swann finished his Test career in 15th spot following his decision to retire from all cricket at the weekend.
Swann reached a high of second place in the Test rankings in March 2010, and he was also the top-rated bowler in One-Day International and Twenty20 International cricket within the last three years.
In the batting rankings, India's Virat Kohli was the big mover as he climbed nine places to 11th after scoring 119 and 96 in the first Test against South Africa.
South Africa batsman Faf du Plessis leapt to 28th from 44th following his second-innings century at the Wanderers, where the Proteas fell just eight runs short of recording a world record run chase, having been set 458 to win.
South Africa duo AB de Villiers, who made 103 in that Test, and Hashim Amla continue to occupy the top two spots in the batting rankings.