Jacques Kallis to retire from Test cricket after South Africa's Boxing Day Test against India
South Africa's Jacques Kallis has announced he will retire from Test cricket after the second Test against India.
Last Updated: 26/12/13 8:50pm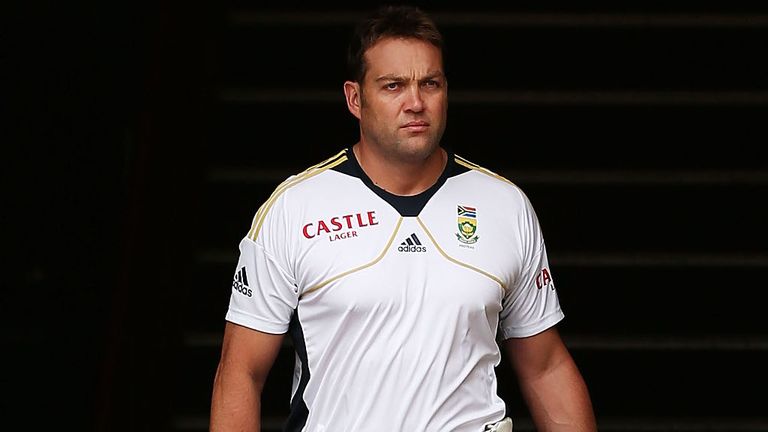 Kallis, who will remain available for selection in the limited-over formats of the game, has played 165 Tests for South Africa, scoring more than 13,000 runs and taking nearly 300 wickets since making his debut as a 20-year-old in 1995.
"It's been an honour and a privilege to have been part of the South African Test team since making my debut 18 years ago," said Kallis. "I have enjoyed every moment out in the middle but I just feel that the time is right to hang up my Test whites.
"It wasn't an easy decision to come to, especially with Australia around the corner and the success this team is enjoying, but I feel that I have made my contribution in this format.
"The last two years specifically have been a memorable journey with an exceptional group of cricketers. I am fortunate enough to have ended my Test career amongst a group of talented cricketers but more importantly, friends whom I will cherish for years to come.
"I don't see it as goodbye because I still have a lot of hunger to push South Africa to that World Cup in 2015 if I am fit and performing.
"Winning an IPL title with the Kolkata Knight Riders was a special achievement, and I am still determined to taste that success with South Africa at an ICC event."
Proteas coach Russell Domingo was quick to pay tribute to Kallis, calling him an "immense human being".
"The impact Jacques has made on South African cricket has been immense, not just as a player but as a human being. I'm not sure we will ever see another player of that stature very soon.
"Jacques' calmness, maturity and presence in the change room will be sorely missed and hopefully he will still be able to play a role in this team's success in the near future.
"He has ambitions of playing in the 2015 World Cup and it will be important for us to manage him accordingly so that he is in prime form leading into the tournament."
Cricket South Africa (CSA) president Chris Nenzani added: "We are truly entering a new era with three of the icons of the game - Ricky Ponting, Sachin Tendulkar and now our own Jacques Kallis - departing the Test arena within a short space of time.
"It is a time for reflection not only on Jacques' enormous contribution to the game of cricket but also the legacy he leaves behind him. South Africans love their sporting heroes and Jacques is right up among the best. Not only that but he has been there for the best part of two decades. At a time when we live in a fast-changing world and not always for the better he has remained true to the best traditions of the game."
Watch South Africa take on India live on Sky Sports 2, coverage starts at 7.55am on Boxing Day via the red button