David Warner says South Africa victory down to 'glovework' of AB de Villiers
David Warner believes South Africa deliberately worked on the ball to generate reverse swing during the second Test.
Last Updated: 26/02/14 8:01am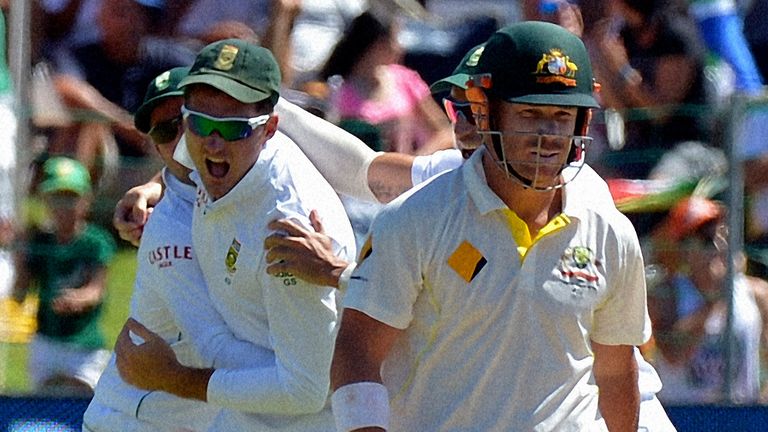 The tourists collapsed from 126-0 to 216 all out at Port Elizabeth as South Africa levelled what is turning out to be a thrilling series at 1-1.
Warner hit 66 and his opening partner Chris Rogers scored a superb 107 - but no other batsman reached double figures as Dale Steyn and Vernon Philander got the ball to sing.
Steyn took 4-55, producing some unplayable deliveries. Warner admits both teams had tried to make the ball reverse by throwing it in on the bounce across the outlying wickets.
But he felt South Africa, and their keeper AB de Villiers in particular, went further.
"We were actually questioning whether or not AB de Villiers would get the ball in his hand and, with his glove, wipe the rough side every ball," Warner told Australian broadcaster Sky Sports Radio.
"That's another thing we have to try to bring up with the umpires."
Australia's own pacemen did not get anywhere near the same amount of movement, either through the air or off the seam.
Warner said: "I think it comes down to the umpires warning both teams not to throw the ball into the wicket, which you generally try to do.
"(South Africa) did it better than we did, or more obviously than we did. At the end of the day it comes down to who can do that the best and work on the ball.
"We worked on the ball a lot in England and we got the ball to reverse a lot there, and we got the ball reversing a little at home (against England).
"This time it just didn't work for us because the outfield was probably a little bit moist and (on) day one it was obviously quite hard to get it to reverse as well. Sometimes that happens."