South Africa Test captain Graeme Smith to retire after a hugely successful international career
Graeme Smith will retire from international cricket at the end of the third Test against Australia.
Last Updated: 04/03/14 12:54pm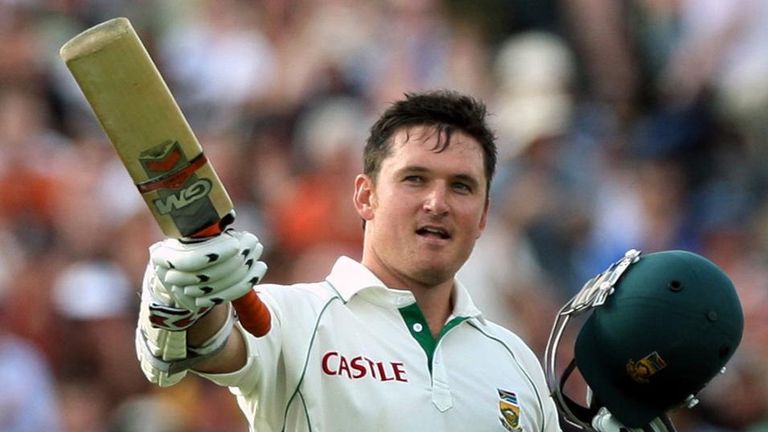 The 33-year-old opening batsman is one of South Africa's greatest ever players, having made 27 Test centuries, and has been a hugely successful skipper since he was handed the job at the age of just 22.
Smith has played in 347 international matches altogether since making his debut in 2002 and has made 10 one-day international hundreds to go alongside his numerous Test tons.
Having broken the news to his team mates at the end of the third day's play at Newlands, Smith said: "This has been the most difficult decision I have ever had to make in my life.
"It's a decision that I have been considering since my ankle surgery in April last year. I have a young family to consider, and I felt that retiring at Newlands would be the best way to end it, because I have called this place home since I was 18.
"I have always been someone who has left everything out there on the field for my team and for my country. I'm extremely honoured and proud to have had the privilege to lead so many wonderful players and to have been a part of building the Proteas culture to what it is today.
"I would like to express my deepest gratitude to the support from my parents and brother, my wife and children, my friends, my sponsors, my fans and to Cricket South Africa.
"I have been fortunate to have had many highs, amongst them leading and being part of the best Test team in the world. I will cherish these memories for the rest of my life. I bid my career a fond yet sad farewell."
Nerves of steel
Cricket South Africa chief executive Haroon Lorgat said: "Although Graeme's decision to retire from all forms of international cricket comes as a surprise to all of us, we must respect him for deciding to call time.
"Knowing him as well as I do, having been instrumental as a selector in appointing him as a young captain, he would not have taken this decision lightly or without a great deal of thought.
"I would like us to remember Graeme for his nerves of steel and his match-winning performances that were synonymous with some of the most remarkable fourth innings victory chases of all time.
"These included setting up the 414 runs chase against Australia at Perth and his series-clinching innings at Edgbaston in 2008. His role in setting up the famous 438 win over Australia in 2006 was also a performance never to be forgotten.
"He can leave the game with pride and he thoroughly deserves the gratitude of our nation for leading the Proteas with much distinction. He has been a mighty warrior, a leader of men and an exceptional part of our international cricket.
"Following the recent retirement of Jacques Kallis from Test cricket, there is no doubt that we are now ready to move into a new era."
Smith looks unlikely to go out on a high as South Africa are on the back foot in the winner-takes-all third Test against the touring Aussies, who are 27-0 in their second innings and lead by 234.
A series defeat would be a rare setback for South Africa under Smith and the Proteas currently sit atop the world Test rankings.
The match is Smith's 117th Test and he had amassed 9,257 runs at an average of 48.72 entering the contest. He is also the most capped Test captain in history and has earned great praise for the way he has led the South African side.