Jacques Kallis wants South Africans to give Graeme Smith more credit
Jacques Kallis has urged South Africa fans to give Graeme Smith "the due respect and recognition he deserves".
Last Updated: 04/03/14 4:42pm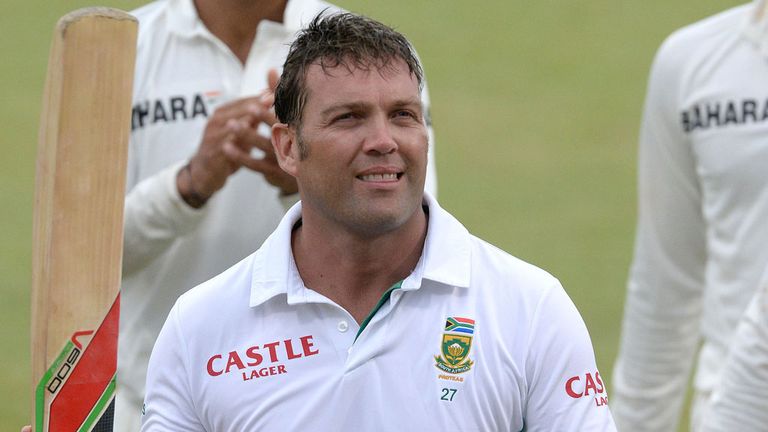 Smith has played his final innings for his country after unexpectedly announcing his retirement from international cricket after the third day of the final Test against Australia.
The left-handed batsman has skippered the Test side since taking over from Shaun Pollock as a raw 22-year-old in 2003, and retires as the most-capped Test captain in history.
Smith led the Proteas to the top of the world rankings, but he has struggled to earn the outright approval of the South African public despite the team's success.
But Kallis and Pollock have paid glowing tributes to the 33-year-old, who they believe deserves more credit than he has been afforded.
"A lot of our sportsmen are like that," said Kallis, who retired from Test cricket in December. "Maybe it's a South African thing that we like to keep our guys down on the ground.
"Hopefully we'll celebrate his retirement and give him the due respect and recognition that he deserves."
Pollock, who stood down as captain following a disappointing 2003 World Cup campaign, added: "The last five or six years is where he's really come to the fore.
"He's had a good team that's been very settled and he's known how to get the best out of them.
Success
"He's been very clear about the tactics he wants to employ and that's why he's had a lot of success."
Former wicketkeeper-batsman Mark Boucher recalled Smith's bravery when attempting to bat with a broken hand against Australia in Sydney in 2009 - an act which earned plenty of respect from Australian fans.
"A lot of guys in the dressing room actually got emotional because they realised what had happened on that tour - the Australian crowd had come to fall in love with a captain who they probably hated so much," Boucher said.
"I've never seen the SCG crowd, having played there for quite a few years and gone through some abuse, actually stand up for an opposition captain. That was big."
Herschelle Gibbs, who shared in three triple-century opening partnerships with Smith, also gave Smith credit for carrying the burden of captaincy from such a young age.
"He's always led the team from the front, right from when he took over the team at the tender age of 22," Gibbs said.
"He always wanted the job and he was very comfortable with having that responsibility."