Scotland captain: What the point of being crushed by Aussies?
Australia 'A' hammered Scotland by 360 runs in their match which left home captain Preston Mommsen questioning the point
Last Updated: 09/06/13 9:09pm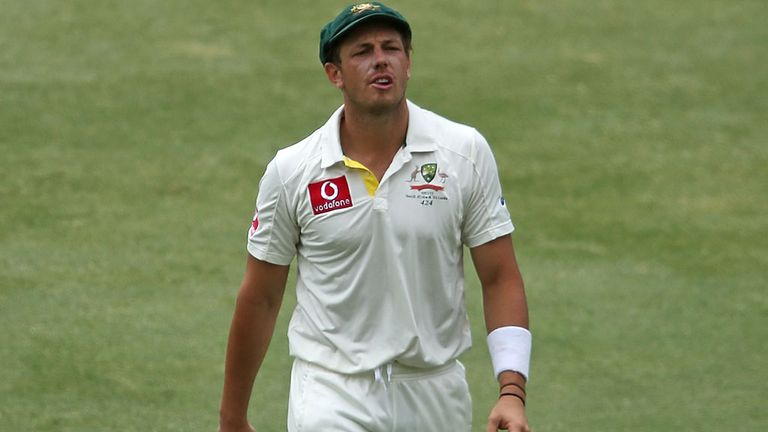 In a rare, four-day, red-ball outing for the Scots, they were skittled out for 149 and then 93 in their two innings.
That four-day match lasted barely two-and-a-half days and the gulf in class was all too apparent.
Mommsen said: "Individually we just weren't good enough. It's a blow. It's been a good experience playing against such quality players. It was a good measure to see where we are in comparison to the best teams in the world. It's quite clear we are not at the same level they are at.
"One thing we can't hide away from is the fact we don't play a lot of red-ball cricket. We play a lot of one-day stuff and T20s with a white ball. It's a very different game when the ball is swinging and nipping about. Your batting skills have to be up to scratch.
"Is there any value for us then in playing a four-day game? That's a good question. When we are playing a big team like this you might ask why aren't we playing them in a one-dayer?"
Four of the Australian team can expect to see Ashes action this summer: wicket-keeper Brad Haddin, Peter Siddle, Nathan Lyon and all-rounder Steve Smith.
Their Test-level skills were evident as the tourists added to their first innings total of 372-8 declared with another large tally, declaring for a second time on 230 for five.
They resumed this morning on 164-4 with a massive 387-run lead following another dominant display against the Scots on Saturday.
They pushed their advantage on past 450 within little more than an hour of play commencing before deciding that was a large enough lead and handing the crease over to their hosts.
But another meek batting display followed, with only Calum MacLeod (30) notching up a respectable knock.
That was largely down to some vicious bowling from the likes of James Pattinson, who claimed 7-37.
Pattinson insists it was a useful exercise. "It's better to play than not to. It was still a good challenge.
"It doesn't matter who you play, you still have to come 100 per cent at them. Scotland are a team on the up. They have got some fantastic players coming through and I was surprised by what they offered. Their bowling was quite good and their batting showed glimpses.
"It was definitely worthwhile for us. And I'm sure Scotland will take something out of playing against good-class players."