Scotland captain Kyle Coezter hopes to heap more misery on England
Kyle Coetzer is hoping to "bring back bad memories" for England when Scotland take on Alastair Cook's side on Friday.
Last Updated: 08/05/14 5:32pm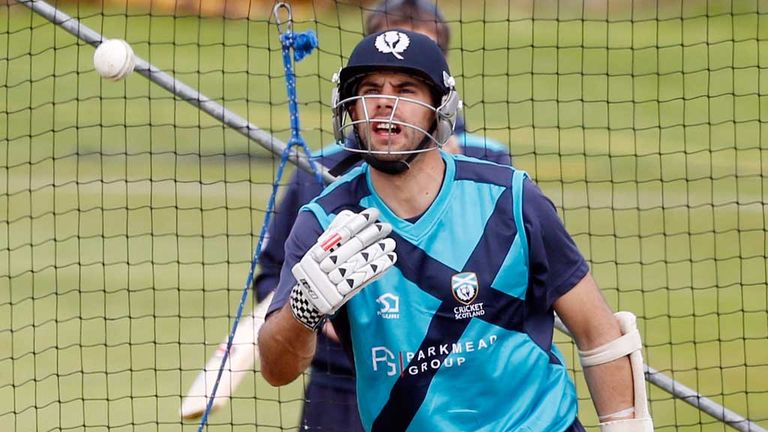 The Scotland captain is determined to heap more misery on England following their disastrous Ashes tour followed by a disappointing performance in the ICC World Twenty20.
"England maybe didn't have the winter they would have liked," said the Aberdeen-born Northamptonshire batsman.
"I guess from our point of view we'd like to put a bit of pressure on them, and maybe try to bring back some of those bad memories from the winter.
"There are some fresh faces in there, and obviously a new coach, so I can imagine there are a few players trying to prove themselves.
"No one's position is cemented yet, so I think some of them may be feeling a little bit of pressure to have to perform in this game.
"We're meant to be the underdogs, so we can maybe prey on all that a little bit. A good start to the game (for us) could really bring back some haunting memories for them."
Acting Scotland coach Craig Wright has sought advice from former England all-rounder Paul Collingwood and Holland captain Peter Borren, who led his side to a remarkable win over England in the World Twenty20.
Collingwood, who assisted Wright in helping Scotland qualify for the 2015 World Cup, was England's fielding coach under Ashley Giles in Bangladesh before he returned to spend one more summer as Durham captain.
Wright was asked if Collingwood had passed on tactical advice for Friday's clash, and he said: "He has. I can't possibly tell you what it is.
"We played an A team game down at Durham last week, and he had us round for a barbecue so we were talking tactics."
Borren's input, it seems, is principally that Scotland should believe in their ability to beat England.
"One of the Dutch teams was over last weekend, and I had a little bit of a chat with Pete," added Wright.
Coetzer, meanwhile, is desperate to pull off a huge shock in front of his home crowd and Scotland's new head coach Grant Bradburn, who will take up his role in July with Wright as assistant.
"I'm immensely looking forward to it," Wright added. "It's a great honour to be captaining my country, especially here in Aberdeen.
"I suppose Ireland and Holland do have one up on us at the moment, having taken a couple of scalps.
"But this is our time to prove ourselves."