Netherlands batting too powerful for Ireland, says Kyle McCallan
Disappointed Ireland must applaud superb Dutch batting after their World T20 exit, says Kyle McCallan.
Last Updated: 21/03/14 2:31pm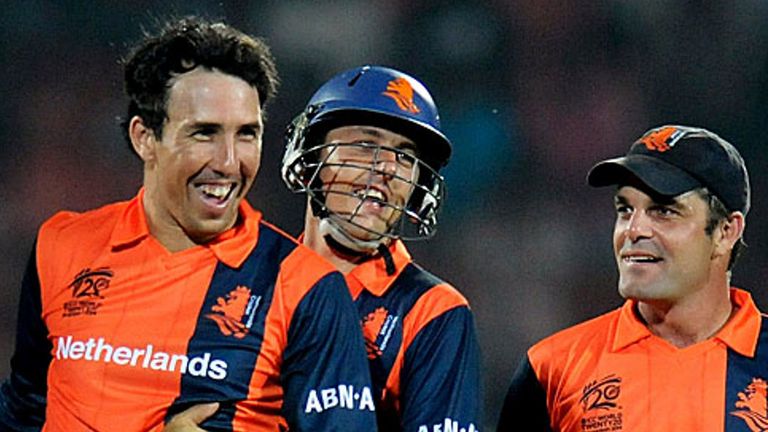 The Netherlands produced a supreme display of six-hitting to make 193 off 13.5 overs to qualify ahead of Ireland on net run rate for the Super 10s.
Peter Borren (31 off 15), Stephen Myburgh (63 off 23) and Tom Cooper (45 off 15) crashed the Irish bowlers around the park before Barresi (40 not out) contributed three more maximums to the Dutch total of 19 to see them to their target.
The result means the Netherlands top their qualifying table ahead of Zimbabwe and Ireland purely on net run rate and they will now go into Group 1, along with England, New Zealand, Sri Lanka and South Africa.
Sky Sports pundit Dirk Nannes reckons Ireland did little wrong as they set about defending their total of 189-4, but says his countrymen's big-hitting at the top of the order stunned the bowling attack.
The Dutch racked up an incredible 91 during the six-over power play and Nannes says the Netherland's fast start was key.
"It was just beautiful hitting," said the former Netherlands and Australia international.
"We saw Ireland were bowling a lot of length but in the first six overs, generally speaking, that's what you bowl as a fast bowler. You're trying to get wickets conventionally, nicks to slip, bowled, lbw - you don't expect to be going into your defensive mode, like they probably should have.
"If you're a bowler in that situation you're almost a rabbit in the headlights thinking 'hang on, this isn't working, what's going on here?'
"By the time you have time to adjust they've got 90-odd and you're well behind in the game."
Too strong
Former Ireland captain McCallan picked out a couple of tactical tweaks Ireland could have made but conceded their World T20 hopes had been dashed by a formidable display of batting.
"It was quite clear that Myburgh was clearing the left leg and trying to hit everything over deep mid-wicket and Ireland kept bowling off-stump and outside to him, which allowed him to free his arm," he said.
"I would have been inclined to say, even to my off-spinners, come over the wicket and go full and straight into the leg-stump line. That allows you to bring your deep backward square leg more backward, bring you're cow corner squarer and bring up your mid-on and say 'good luck'.
"But I'm very much aware it's dead easy to stand here and say that; it's executing those skills.
"Peter Borren is predominantly a leg side player and Ireland did try to go quite wide to him and he was still getting them through mid-wicket.
"All in all it was an excellent wicket. It's easy to look back and say you could have done this, you could have done that, but, at the end of the day, the Dutch batting was just too strong.
"Sometimes you have to accept you've come off second best and I very much look forward to seeing the Dutch, as they go forward, maybe cause another upset or two."
Experience
Despite Ireland just falling short of reaching the Super 10s, McCallan says there is still plenty for them to be optimistic about.
With next year's World Cup in Australia approaching, McCallan says Irish cricket is continuing to strengthen and they will be better off for their campaign in Bangladesh.
"As with any tournament, there'll be a lot of reflection as to whether it's successful or not but I suppose fundamentally Ireland were unbeaten up until today," he said.
"They'd won eight games out of eight in the quest to get to the main stage. They'd won the qualifying tournament, they were in the box seat during the qualifying round, and it will be bitterly disappointing.
"Clearly what Ireland want are more games against full member countries on the big stage for that experience. Unfortunately this time it's not meant to be but I'm quite confident, with having already qualified for the 50-over World Cup in Australia and with the other things in the pipeline, Irish cricket is in a very healthy state.
"There's a lovely blend of youth experience in our side who will have gained massively from today's experience some way down the line."