Australia have given Sri Lanka a chance in the third Test, says Mark Butcher
Australia's careless batsmen have given Sri Lanka a chance in the third Test, says Mark Butcher.
Last Updated: 04/01/13 10:44am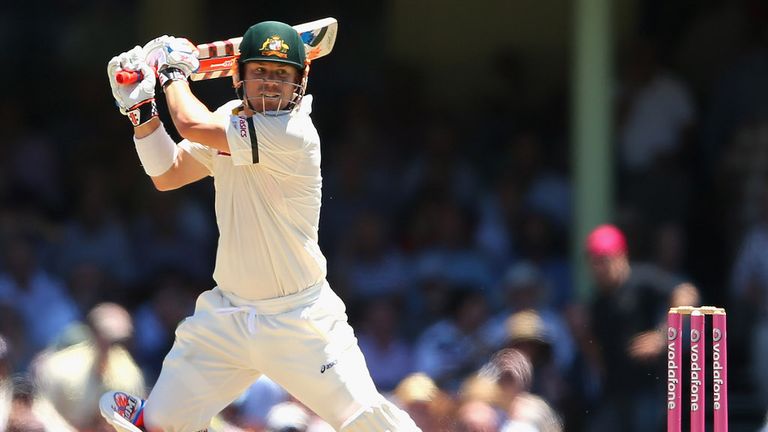 The hosts bowled Sri Lanka out for 294 on day one and looked well set on Friday to bat the tourists out of the game at 166-1, with Phil Hughes (87) and David Warner (85) at the crease.
However, Australia lost the pair in quick succession, with Warner skying a catch to Dhammika Prasad before Mike Hussey became the Baggy Greens' second run-out victim of the innings following Ed Cowan's earlier blunder.
An ill-advised shot from Michael Clarke - who had looked on course for a big score after making 50 - offered Sri Lanka more hope, while the wicket of Mitchell Johnson shortly before the close left the tourists well in the match with three days to play.
"It hasn't quite gone according to plan for Australia," said Butcher. "They got off to a flyer with Warner and Hughes; their partnership was a very good one and Sri Lanka looked completely devoid of any ideas or cutting edge.
"However, Australia were a little lax in terms of nailing the Sri Lankans down and gave away wickets to run outs and rash shots and suddenly Sri Lanka are back in the game.
"Having played a couple of Test matches in Sydney on dry pitches I know there is always one innings in these Test matches where a team gets knocked over for not very many.
"Whether that will be Sri Lanka in the third innings or Australia in the fourth remains to be seen, but you can't afford to give wickets away on these dry surfaces because at some point it's going to hurt you."
Sri Lanka are 2-0 down in the series but could earn some pride with a consolation win in the final Test of their trip Down Under - but Butcher says they must end Australia's innings quickly on day three and then deliver with the bat.
"Sri Lanka have a chance if they can get the final four wickets for no more than 30 or 40 runs," he said. "They have got brilliant batsmen who are used to playing on dry surfaces who could put Australia under pressure, and if Australia need 130-140 in the final innings that's not going to be straightforward.
"Sri Lanka have to go into tomorrow with heart and belief that they're still in with the chance of getting something out of this tour."
Wonderful
Meanwhile, Angus Fraser praised Warner who, despite failing to make three figures, once again showed his potential in the five-day format.
"He's a wonderful stroke player," the ex-England bowler said of the New South Wales batsman.
"He made his name originally in short-form cricket but the Australia selectors have seen something there, brought him into the Test side and now he's showing what a class player he is.
"He's averaging 45 in Test cricket and he has a wonderful array of strokes, especially through the off-side, where he's particularly strong; he's a huge talent.
"He gives you chances but if you don't get him early he can score quickly and take a game away from you in a session or so."
Butcher was equally impressed and likened Warner to recent Australia stalwart Matthew Hayden.
"Warner has a pretty sound technique, even though he's always looking to go at the bowler," he said. "He plays with the full face of the bat and his footwork is really good.
"He's very much in the mould of someone such as Hayden, where he's an opening batsman but he's immediately looking to put the fielding side on the back foot by scoring at an incredibly fast rate.
"He and Hughes had Sri Lanka on toast; Tillakaratne Dilshan was bowling, the field was set back and they were scoring freely enough when he got out by taking a risk he didn't need to take.
"But that's the way he plays and Sri Lanka would have breathed a huge sigh of relief to see the back of him because the game was going and it was going very quickly while Warner was there."