Sri Lanka captain Angelo Mathews admits Galle pitch 'a road'
Sri Lanka captain Angelo Mathews admitted the pitch used in the draw with Bangladesh was like playing on a "road".
Last Updated: 12/03/13 3:48pm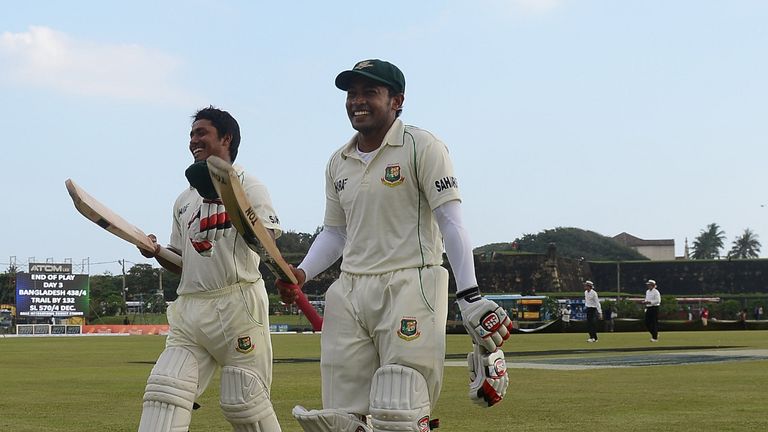 Only 19 wickets fell in the Test while eight centuries were scored, equalling the record set in the 2005 match between South Africa and the West Indies in Antigua.
The 1613 runs scored by both teams also made it the highest match-aggregate in a test in Sri Lanka.
"The wicket was absolutely a road," said Mathews. "The batsmen would have loved to bat for the next couple of days as well. It didn't spin at all.
"The bowlers tried their bet. It was just that the wicket didn't give any sort of assistance."
"It was hard work. It was pretty disappointing for us. We would have liked to win the game. Credit to the batsmen, though. The two legends - Kumar Sangakkara (who scored two centuries) and Tillakaratne Dilshan - batted really well."
Consistency
Bangladesh captain Mushfiqur Rahim, who scored his country's maiden Test double century, was named man-of-the-match and he was delighted with his team's performance as they posted their highest ever score.
"We hadn't got a chance to get a lead whenever we had played Sri Lanka before and it's a great achievement for us," he said.
"That is our main target - to play Test cricket consistently. I think our batsmen showed their character. Mohammad Ashraful (who scored 190) played a really long innings along with Nasir Hossain (100).
"It's a big moment for us. It's the first time we had a lead against Sri Lanka. I hope to continue the same way.
"It is really enjoyable. The team is playing very well together. We didn't really bowl well first up, so we had a chat that we need to show character and then our batsmen did really well."
Colombo hosts the second and final Test, starting on Saturday.