World T20: South Africa captain Faf du Plessis suspended for England clash
South Africa skipper Faf du Plessis has been ruled out of Saturday's clash with England due to suspension
Last Updated: 28/03/14 3:08pm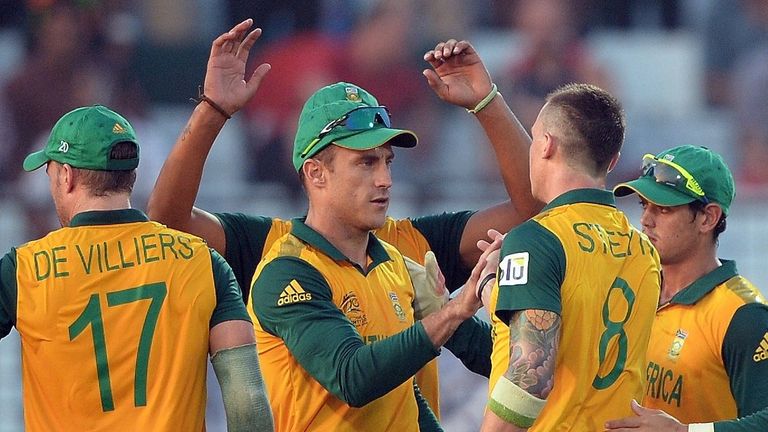 Du Plessis and Sri Lanka captain Dinesh Chandimal have been punished for failing to keep up with the required over rate for the second time in the last year, an offence which activates a one-game ban under ICC regulations.
South Africa were one over behind schedule in their dramatic World Twenty20 win over Holland on Thursday, just three days after they were fined for being two overs shy against New Zealand.
Sri Lanka, who were fined for a slow over-rate against New Zealand in November last year, were again behind the required target during the thrilling defeat to England.
ICC match referee David Boon imposed the sanctions, which means Du Plessis will not be available for South Africa's crucial Group One clash with England on Saturday.
Pleaded guilty
Du Plessis accepted the punishment after pleading guilty, but Chandimal contested the charge only to have his appeal thrown out at a hearing on Friday.
Chandimal will now sit out Sri Lanka's final Group One game against New Zealand in Chittagong on Monday.
Both captains were also fined 20 per cent of their match fee, while their team-mates were each docked 10 per cent.
An ICC statement read: "David Boon imposed the suspensions and penalties after both sides were ruled to be one over short of their targets at the end of their matches against the Netherlands and England, respectively, when time allowances were taken into consideration.
"Du Plessis pleaded guilty to the offence and accepted the proposed sanctions, so there was no need for a formal hearing. Du Plessis will miss his side's match against England on 29 March.
"Chandimal pleaded not guilty to the offence and, in accordance with the provisions of the Code, a full hearing was held on Friday, with Mr Boon
appointed to adjudicate the matter.
"Following the hearing, the charge and proposed penalty were upheld by Mr Boon, and Chandimal will miss Sri Lanka's final Super 10 stage match against New Zealand on 31 March."
AB de Villiers will now lead out South Africa against England on Saturday, while Chandimal will be replaced by Lasith Malinga.