Kumar Sangakkara: Paul Farbrace departure 'not nice'
Sri Lanka star Kumar Sangakkara admits the circumstances of coach Paul Farbrace's switch to England were "not nice".
Last Updated: 01/05/14 7:01am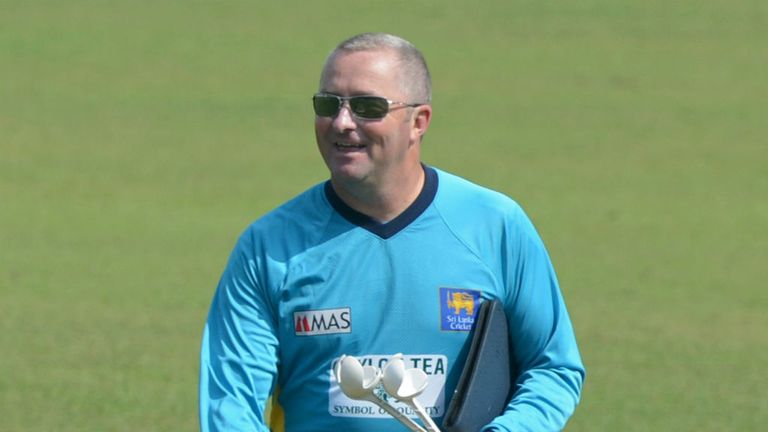 Farbrace was appointed Sri Lanka coach last December and stayed for just four months, during which time he led them to the Asia Cup and World Twenty20 titles.
He was then approached to be No 2 to England's new head coach Peter Moores, and accepted the offer.
His decision caused considerable anger and disappointment in Sri Lanka, and ironically their first matches without him are against England.
Sangakkara has no doubts about Farbrace's ability to help forge a recovery in English cricket.
He said: "Paul is a big loss for us. We enjoyed working with him in 2008-09 when he was the assistant coach to Trevor Bayliss.
"When he came back, I think everyone was very excited because he's a lovely guy and he gets on really well with the team.
"He could understand how Sri Lanka works and his impact was really important for us in those three months.
"It's unfortunate, the circumstances surrounding how he left, it was probably not nice, but England will gain hugely from Paul.
"He's a top guy and a wonderful coach. He's very good with people and sometimes that's more important than having all the knowledge in the world."
Sangakkara - who will two Division One matches for Durham to get used to English conditions - believes the future remains bright for Sri Lanka, with or without Farbrace.
He said: "Going into the Twenty20 World Cup this year, we had a very different team from what we have had in the past with a lot of younger players.
"But Sri Lanka has got this knack of producing players who are able to deal with situations very well. It's been great to watch these guys blossom.
"To be part of a team that won the Twenty20 World Cup was incredible. We have always performed very well and had a very consistent team. It's just a case of these guys having a bit more experience.
"They have got the talent, but converting that into long-lasting ability is the key. These guys can do that."