Bangladesh agree four-series deal with India until 2020
Bangladesh will play Test cricket in India for the first time in 2016 after agreeing a four-series deal.
Last Updated: 09/02/14 6:26pm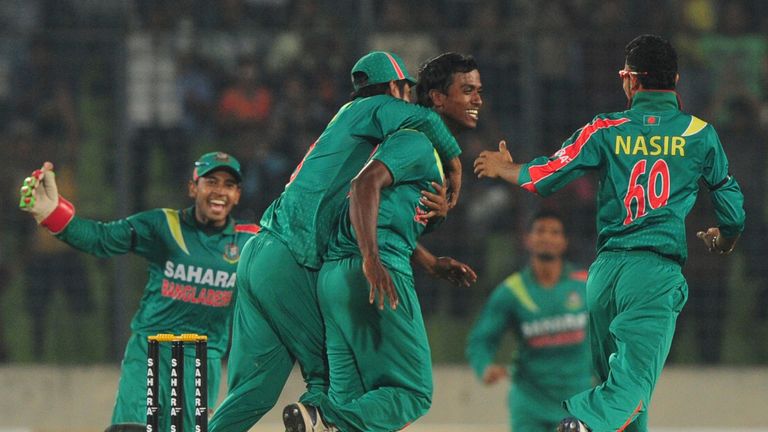 Bangladesh Cricket Board president Nazmul Hassan announced that they will host India in June this year for a limited-overs series, and India will visit again in June next year for Tests and one-day internationals.
Hassan also confirmed Bangladesh will make their maiden Test tour to India in 2016, with India returning in 2020.
A three-series deal has also been agreed, although not signed, with Cricket Australia, but England have yet to confirm that their scheduled tour of Bangladesh in 2016 will go ahead.
"We have signed with India that they will visit us in 2014," Hassan said. "The next year, 2015, India will come to Bangladesh to play Tests. In August and September of 2016, Bangladesh will tour India to play Tests. In June 2020, India will come to play Tests and ODIs.
"Our main objective was to play more Test matches, and tour the big nations. We have confirmed these so far, because every country has a very tight schedule."
Deal agreed
Hassan added that a deal had been agreed in principle to tour Australia in 2015 and 2018, with Australia invited to tour Bangladesh in 2021.
"We have not signed on it but have principally agreed," Hassan said. "We have to fix the date with them soon.
"As for England, we haven't signed anything but they have agreed to honour our FTP till 2020. They have agreed to come twice to Bangladesh."
Hassan is determined to secure agreements to play 50 Tests over the next six years against top-tier countries in a bid to move Bangladesh up the ICC world rankings.
"According to the last FTP, we have 33 Tests left to play till 2020," Hassan added. "Now the timings might change with other teams at first, because of the MPA and all the hassle that will come with it. We have targeted around 50 Tests.
"We will play more cricket now against big teams, and if we win or draw against them, then our ranking will rise. The proposal went as we wanted it. So you can say we are successful."