The Ashes: Michael Holding says Steven Finn should start series
Michael Holding says the pace of Steven Finn should earn him the third seam berth at Trent Bridge.
Last Updated: 09/07/13 1:38pm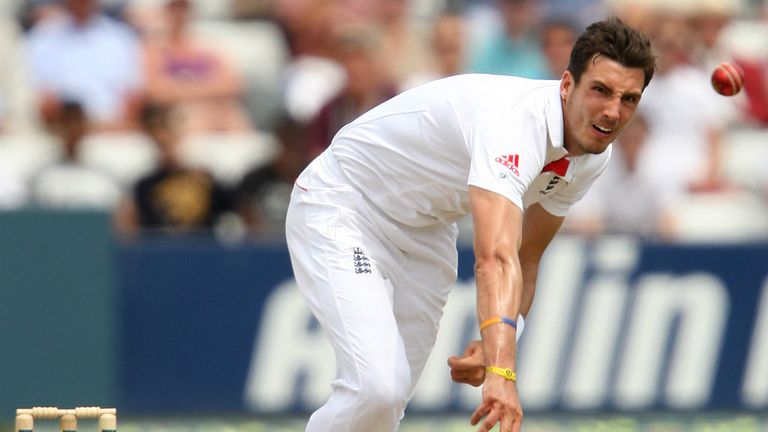 The third seam bowling berth is the key selection issue for the hosts ahead of Wednesday's first match against Australia with three players vying for a place alongside James Anderson, Stuart Broad and spinner Graeme Swann in the attack.
Finn played in both home matches against New Zealand earlier this summer and Holding is in no doubt that the Middlesex quick should retain his place.
"I am very biased. I'd pick Steven Finn. I wouldn't even think about it," said the Sky Sports expert.
"I like Steven Finn as a bowler; I like the fact that he's that tall, that he has some pace and probably because I was a fast bowler I like people who can give you sleepless nights - and he certainly can.
"He might not be able to swing the ball around as much as Bresnan and Onions, but batsmen don't particularly like fast bowling.
"I've seen batsmen that have played at balls because it's fast at a particular length or line that they wouldn't have done if it was slower. That's what fast bowling does to opposition batsmen."
Finn has once again adapted his run-up in an attempt to stop his habit of knocking the bails off with his knee; an issue that cost England wickets in last summer's series against South Africa.
He had shortened his run-up ahead of last month's Champions Trophy, but has now lengthened it again and Holding does not see it as a major problem going into the Ashes.
He added: "As far as I'm concerned, Steven Finn will have done enough hard work since the Champions Trophy to get back into the rhythm of Test match cricket and getting back into bowling off his normal long run.
"I don't think he was very comfortable off his short run and that's why he went back to his longer run. I think he's a lot more comfortable now.
"We haven't heard too many times of him clipping the stumps - and if he does clip the stumps just once every now and again it's just as if somebody else has bowled a no ball every now and again.
"What you've got to do is make sure you don't take any wickets with that particular delivery. I don't think it will be a serious problem."
Horses for courses
Finn's chief rival for a starting place at Trent Bridge appears to be Bresnan, who recorded career-best figures of 5-48 against India on the ground in 2011, a match in which he also scored 90 runs with the bat.
And while Holding says there is value in looking at history and statistics, he encouraged the selectors to stand by the man who has performed well for them in recent Tests.
He said: "When it comes down to the final XI, the selectors will think to themselves that Bresnan has done well on this ground.
"I've seen it happen in the past. I've heard it said in England: 'horses for courses.' They like picking people who have done well on particular grounds.
"But I don't think you can go too far down that route because then you wouldn't pick Swann. He has never taken too many wickets here - I think he has three wickets in three Test matches - so you wouldn't pick Swann at all.
"And you have to pick Swann!"
Sky Sports has also launched an enhanced Ashes experience within the Sky Sports for iPad and via the Ashes Event Centre on skysports.com, providing users with even more viewing options, data and insight throughout the series.