Cricket Expert & Columnist
England v India, fifth Test: Tourists have lost confidence, says Michael Holding
Woakes and Jordan deliver on day one
Last Updated: 17/08/14 2:06pm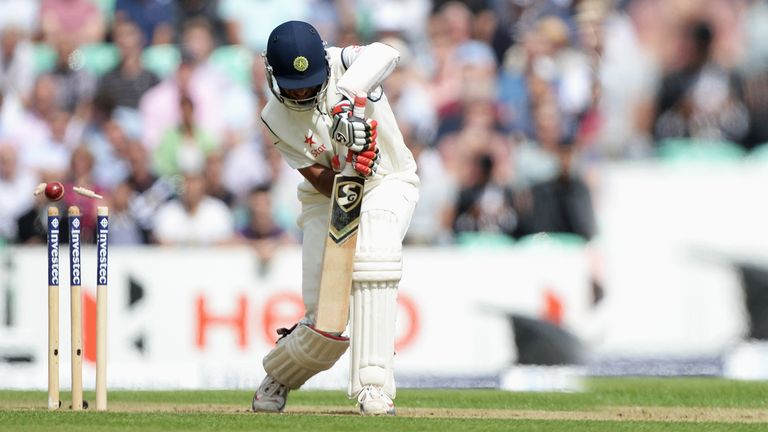 India's batsmen have lost their confidence at the crease, said Michael Holding, after watching the tourists produce a woeful batting display on day one of the fifth Test at the Oval.
After bowling India out for 152 and 161 in the fourth Test at Old Trafford, England skipper Alastair Cook didn't hesitate to insert his opponents on Friday – and once again MS Dhoni's men capitulated.
Reduced to 44-6, a spirited 82 from captain Dhoni helped lift India to 148 all out – but Duncan Fletcher's side already face a difficult task to tie the series 2-2, with Cook (24no) and Sam Robson (33no) steering England to 62-0 at the close.
The dismissals of Gautam Gambhir – caught trying to leave a rising James Anderson delivery – and Virat Kohli – dismissed lbw after leaving a straight one – epitomised the malaise and misjudgements made throughout the day by the India batsman and Sky Sports expert Holding says the tourists lack assurance.
England had to make India's Old Trafford nightmare continue – and they did a good job!
Michael Holding
"It was definitely a good toss to win but Alastair Cook did the right thing, irrespective of the conditions," said the former West Indies bowler.
"He had to insert India after their batting performance at Old Trafford. That was a nightmare and you have to continue the nightmare – and he did a good job!
"The confidence isn't there, for India. When you see batsmen think about leaving the ball alone and get caught off the bat or get out lbw it's because the confidence isn't there. They're trying to play at as few balls as possible.
"If the confidence is there, although the ball has been moving around, they'd be a lot more assured with their stroke play and with their foot movement. But it just wasn't there.
"You have to say England bowled well. The conditions suited bowling but they kept the pressure on, they didn't give away runs and when you're bowling on a pitch like that eventually you'll get a wicket."
Support
Whilst Anderson and Stuart Broad have taken the plaudits throughout the series, Chris Woakes and Chris Jordan shone on Friday.
Both took three wickets from 14 overs and Holding was delighted to see the pair play their part on a dominant day for England.
"You don't want Jimmy Anderson and Stuart Broad doing all the work," he said.
"We saw early on that the work load was being shared, Woakes and Jordan got their wickets and that gave the captain confidence to keep bowling them.
"He had to bring Jimmy Anderson back at the very end, which I'm not too sure he really wanted to do, but sometimes that happens, sometimes you get up against a stumbling block and you have to bring back your best bowler.
"But they earned their corn today, the 'support bowlers', as people say."
Learning
In his post-match interview, Woakes discussed his development as a bowler since making his debut for his country last summer, and Holding says Jordan will also progress as he gains more experience at international level.
"Woakes said he has learned since he made his debut against Australia and I think Chris Jordan is going to gradually get there as well," he said.
"Jordan's still working on his action and still has some flaws, but the more wickets he takes, the more bowling he does, the better it will become.
"You can see him thinking about the action but once it gets to the point where he doesn't have to think about it, everything will be a lot better."
Looking ahead to Saturday's play, Holding says conditions are all in England's favour to build a significant lead on day two.
"With a slightly older ball, sunshine and the pitch getting a little quicker, which means it will come onto the bat better, it should be good for batting."
Watch day two of the fifth Test live on Sky Sports 2 HD from 10.30am