Cricket Expert & Columnist
Alex Hales: England opener now ready to bat in different ways in ODI cricket
Notts man has added dimensions after stellar run in county games
Last Updated: 28/08/14 11:34am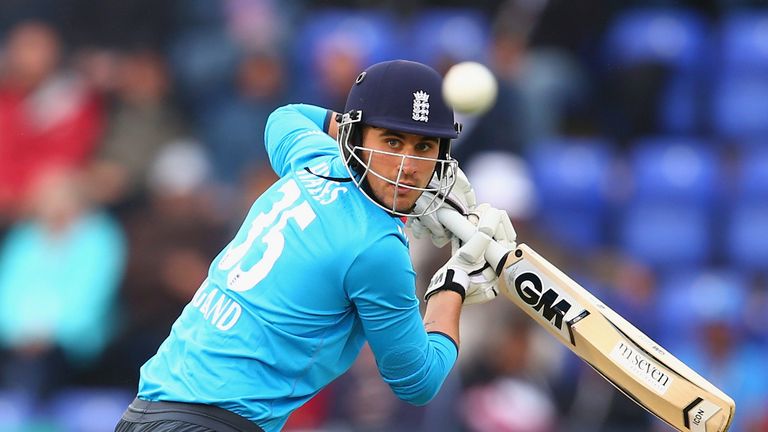 Nick Knight says England were right to delay picking Alex Hales for one-day internationals.
Opener Hales smashed a stunning 116 not out against Sri Lanka in the ICC World Twenty20 in March, but had to wait until this summer to be given his bow in the international 50-over format.
However, former England batsman Knight reckons that has allowed the 25-year-old to hone his skills at domestic level, with the right-hander scoring three tons in five innings for Nottinghamshire in the Royal London Cup this term.
And Knight insists Hales is now more than capable of being a vital cog in England's one-day batting order – and not just as a bruiser up top.
"I think the timing of his England call-up is spot-on," Knight said on the day Hales scored 40 off 63 deliveries on debut to top score for his country in their 133-run defeat to India in the second ODI.
"I have seen a lot of him recently and I've been mighty impressed, not just by the obvious things likes fours, sixes and power, but by the way he has constructed his innings.
"Going back 12 months or so, if he didn't get off to a flyer he would have had a huge swing and smacked one up in the air, so a maturity process has gone on and he is ready.
"However, while we are saying 'we've now found the guy who can get England off to a flyer', if the conditions don't suit he will take his time and make it up in the middle overs – or, if he is in, at the end – and score hundreds at a good rate.
"England need someone to hit boundaries against the spinners and that's why I'm so excited that Hales, who is playing his best cricket, has been given that chance."
Microcosm
England's batting, Hales aside, failed to fire at The Swalec Stadium, with Eoin Morgan, Ben Stokes and Chris Woakes the only other players to pass 20 as the hosts were dismissed for 161.
Nasser Hussain, though, was frustrated by England's bowling in Cardiff, with the home side allowing India to recover from 19-2 to post a total of 304-6.
Knight was also annoyed by the home side's efforts with the ball but took time to praise Indian centurion Suresh Raina (100 from 75 balls), whose runs in Wales whilst batting with MS Dhoni (52 off 51) made that tandem the highest run-scoring partnership against England in ODI cricket.
"India's innings was a microcosm of where England's bowling is at in one-day cricket," said Hussain, after seeing Chris Jordan get dispatched for 73 runs from his 10 overs and and Ben Stokes go for 54 off seven.
Highest cumulative ODI partnerships versus England
Dhoni and Raina (Ind) - 1,003 runs
Gilchrist and Hayden (Aus) - 989 runs
Greenidge and Haynes (WI) - 792 runs
Jones and Marsh (Aus) - 773 runs
"When it's doing a little bit they look good, have enough and can reduce a side to 20-2 but when it goes flat – as it will do in the World Cup in Australia and New Zealand – the attack looks a bit one-dimensional and one-paced."
Knight added: "Maybe not being out there in the wreckage of the Tests and having psychological scars helped Raina because he just went out and played like he often does, getting himself in and then accelerating.
"He whacks the spinners, uses the crease beautifully, which makes it hard for any bowler to bowl to him, and I am just surprised this was just his fourth ODI hundred because he bats superbly with Dhoni in the middle overs."
Watch the third ODI between England and India from 10am on Saturday on Sky Sports 2 (channel 403).