Nasser's World XI
Find out who Nasser Hussain has selected as the new-ball pairing in his dream Test team.
Last Updated: 08/08/11 12:27pm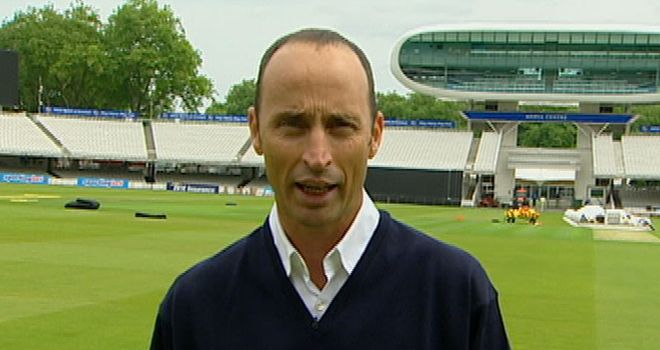 This summer Nasser Hussain will be selecting his current Test XI on Cricket AM!
Each week the former England captain will pick a player to slot into his dream team, based on form in Test cricket alone over the last 12 months.
Some are obvious, others more debateable - so don't be afraid to share your views on Nass' picks by filling out the feedback form below!
Nasser's World XI
1. Virender Sehwag: There is no-one else like him - he plays with no fear; he picks his bat up and he tries to hit the ball as much as possible. He is a modern Test match player, he puts fear into the opening bowlers' minds. He is such an attacking player he scores hundreds, double hundreds, triple hundreds at a great rate. That's why he's the first name down on my team sheet.
2. Alastair Cook: This was the hardest position for me to fill. Seven months ago this lad was struggling to get into the England side but now he is in my World XI! It has to be Alastair Cook simply because of the way he batted in Australia - he had a phenomenal record out there with the amount of runs, volume of runs and the way he got those runs! He has started the season against Sri Lanka well too.
3. Jonathan Trott: This is a pivotal position in any side. I want a man strong of mind and of good technique - someone who will bat for your life. Trott has been unbelievably good for England ever since he has come into the side. He is a run machine - you have to drag him away from the middle. He just loves batting. He has a good technique, he's very strong of mind and he winds up the opposition. He has those idiosyncrasies that really wind them up. They don't know how to bowl to Jonathan Trott.
4. Sachin Tendulkar: The batting line-up is starting to take shape but in the unlikely event that we lose some early wickets I want a big name at number four. It is a huge position and I want a superstar of the game coming in and filling that role and the "Little Master", Sachin Tedulkar must bat at number four. He is arguably the greatest batsman of all-time. He has a strong mind, he loves batting, he loves the game of cricket and he has a superb technique. You cannot argue with this selection - it must me be Tendulkar.
5. AB de Villiers: I want someone who is versatile to come in at No 5 - someone who can come in at 20-3 or 200-3. I also want a decent fielder because I'm getting a little bit worried about my side's mobility in the field! I love the way AB de Villiers plays the game, I love his attacking style; he is an outstanding fielder too. There is potential for de Villiers to grow in this side with all of the other legends around him; that would make him a very exciting choice.
6. Jacques Kallis: A brilliant all-rounder is essential to the balance of any great team. I want someone who can change the game with bat and ball and, again, I want him to be an outstanding fielder. Kallis always seems to get overlooked when you mention the great names of Test cricket but he has been a consistent performer for over a decade now. He is one of the best batsmen in the world not to mention one of the best slip catchers plus a more than useful bowler. He doesn't like bowling, but he won't have to do a lot in this side.
7. Mahendra Singh Dhoni: To get in my side as the glovesman not only do you have to be brilliant with the gloves, you also have to smack it with the bat. After a lot of thought on this position I'm going to have to go with Mahendra Singh Dhoni. He's not done it as much in Test match cricket but I just can't leave him out. He's such a cool customer and he handles pressure so well. He's used to having celebrities and superstars around him, which is what you have in this team and Mahendra Singh Dhoni in any World XI just has to be there.
8. Graeme Swann: You can have all the best batsmen in the world but if you don't get 20 wickets you can't win Test matches, so in the spin department I want someone who gives it a good tweak, someone who tries to spin it every delivery, someone who tries to take a wicket every delivery and can bowl sides out on any surface. I have to go for Graeme Swann. He has been a breath of fresh air since he came into the England squad, he gives it a good tweak and he tries to take a wicket with every delivery. I love his attitude to the game, he's also a partnership breaker and every time he comes on he seems to take a wicket in his first over. Above all, I love his attitude to the game of cricket; he's an entertainer and someone I would pay to watch.
9. Zaheer Khan: My third seamer - my first-change bowler can come on if the new-ball pair don't take an early wicket. I don't want him to be a one-dimensional bowler and just rely on swing - I want him to be good with the new ball and the old ball. Zaheer has so much nous about the art of bowling that he has to be in any World XI He swings the new ball and he reverse swings the older one. He really is a clever bowler.
10. Dale Steyn: Dale Steyn and James Anderson have been the pick of the seamers over the last year or so but they're too similar. I'm going to go for Steyn. The skiddy swing bowling of Dale Steyn at high pace reminds me of Malcom Marshall. He's skiddy, quick - he can hit you on the foot, hit you on the head and can nick you off outside off stump.
11. Morne Morkel: At the other end I'm going to have Morne Morkel because he's completely different. Tall, gangly and round the wicket to the left handers - he gets lots of bounce and is a real handful on any pitch. Sorry James Anderson, but I'm going to have to go for an all-South African new ball pairing because I want variety between them.
Shortlisted
| | | | |
| --- | --- | --- | --- |
| Position | | | |
| 1. | Shane Watson | Tamim Iqbal | Tillakaratne Dilshan |
Follow the show on Twitter @CricketAM