Nasser Hussain and Nick Knight say Ashley Giles will help England fire on all fronts
Nasser Hussain and Nick Knight say Ashley Giles' new role will help England fire on all fronts.
Last Updated: 28/11/12 4:05pm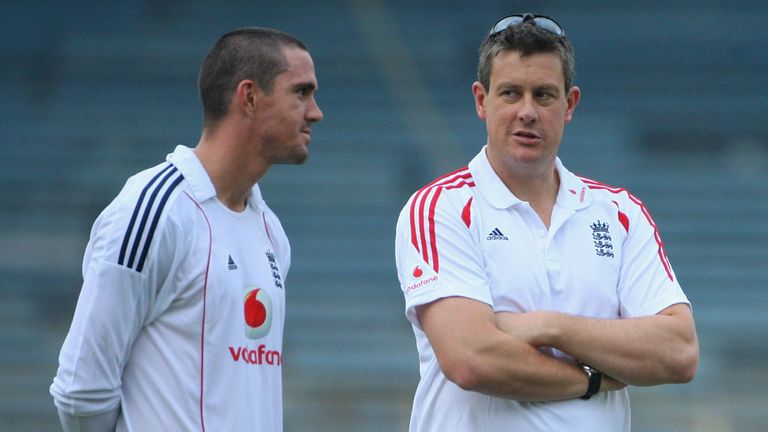 Anything that prolongs Andy Flower's career and involvement in English cricket is a good decision from the ECB. Flower is a very impressive man and you don't want to lose him completely, especially with another impressive man like Andrew Strauss leaving the set-up a couple of months ago; that would have been a bit too much to take.
Players can get a bit of down time, but the England coach is never off and anything to do with English cricket - future Tour planning, rotation of players, the Kevin Pietersen saga, Andrew Strauss leaving as captain - will end up at his door. Plus, it's all well and good when you are winning 3-1 in Australia, but the last year has been tough and Flower's energy levels will be down, so he will now get a good life-work balance.
The ECB will be thinking they want to keep Flower full of energy for the two Ashes series, which is enough planning for one man, but also get in someone full of energy for the ICC Champions Trophy in England (in 2013). There may be some succession planning but we get the best of both worlds.
Nick on the timing
Ashley's done a fantastic job as Warwickshire coach over the last few years. A couple of trophies have come in - a one-day trophy and last year's County Championship. Maybe even bigger than that, he's a young, English coach - I think that says a lot about the system that they've got. They are trying to promote the young English coaches coming through the system to the top, so all things are good as far as I'm concerned.
He will have played with some members of the current England team and there will be those out there who say it's a bit too soon for a former player to be taking charge. I don't have a problem with that. He's been away from international cricket for a long enough period of time now and done his time in county cricket. He will have worked with Flower importantly and those in charge at the ECB and with the players themselves, so I don't see there being a problem there.
Nasser on Giles' attributes
I think Giles is a good selection as he ticks every box; he has been very successful as a coach at Warwickshire, and been part of the England set-up for the best part of 15 years as a player and selector, so it won't be a massive change for a one-day team that is the number-one ranked side in world cricket.
As England coach you might hear about a lad bursting on the scene but you don't get around the country circuit to see him score a hundred, but Giles will have seen all these young lads in county cricket during his time at Warwickshire so he has his finger on the pulse and will bring fresh ideas, too.
Nick on Flower's future
I don't know exactly what Flower's been through but they are prepared to rest the players - that seems to be a system that's working - so why would you not do it with the coach?
The only slight issue I've got with it, and I'm pretty sure this won't happen, but when you look at the England captains who have retired from one-day cricket to concentrate on the Test team it's been a bit of a slide actually into retirement or losing their place.
Obviously Giles has got half an eye, I presume, on wanting to be the overall guru in one-day cricket and Test match cricket but quite clearly that relationship will develop and evolve over time and I'm very sure that Flower wants to keep the pressure for as long as possible.