Behind the verve
Bob Willis hopes England's young guns can inject some dynamism into an under-performing ODI side.
Last Updated: 07/02/12 5:05pm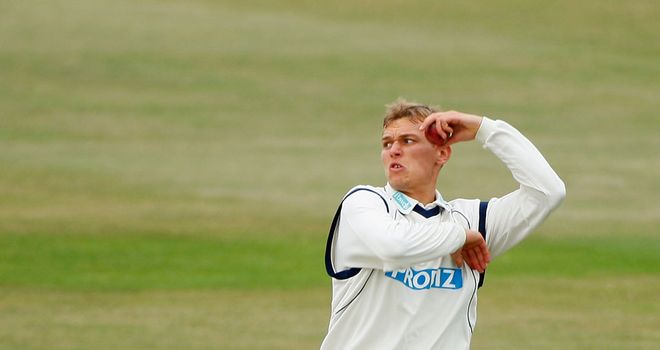 Who would be in your England one-day XI?
Marcus Trescothick and I sat down to pick our own team in the Sky Sports studio earlier this week and came up with the same side.
This is it: Cook, Kieswetter, Pietersen, Trott, Morgan, Buttler, Patel, Bresnan, Broad, Swann, Finn.
How does yours compare?
The first thing I'd say is that Jos Buttler is one of the most exciting cricketers I've seen in a generation.
I was really, really impressed when we first saw him on Sky Sports as a schoolboy and his curve has been upward ever since. He's had a very good Lions tour of Sri Lanka and should definitely be in the XI for the first one-dayer against Pakistan, on Monday.
Enforcers
The main problem with my side is that Kevin Pietersen and Jonathan Trott are the spare bowlers.
Ravi Bopara could come in as an option but, for my money, he keeps flattering to deceive.
He had a poor tour of India in the 5-0 whitewash and I think it's time to look elsewhere for one-day international enforcers in the middle-order. I'd rather back my five bowlers and include Buttler, who is a possible Test match number six.
Only time will tell. Marcus says Buttler has a long way to go as a first-class cricketer yet, and is someone might do well to spend more time thinking about occupying the crease, but that doesn't mean he's not an incredible talent.
I'm quite a fan of having Kieswetter at the top of the order, but England are going to go with Pietersen and Cook instead.
I don't necessarily mind that approach either; I just want to avoid sending Trott in during the powerplay overs at the start of the innings if I can. I don't want to see someone pushing half-volleys around for one when they should be launched into the stands.
Kieswetter has a one-day international average of just under 30 but that's largely down to the nature of the role he is asked to perform, that of sacrificial lamb.
We tend to select an established England Test match player to open - a Trescothick, Strauss or Cook - and then pick some poor unfortunate soul to partner them who is expected to play harry-carry - Prior, Mustard, Denly and the like. You have to accept that opening role for what it is.
Fresh
England started the World Cup with Pietersen opening the batting and they've decided to give it another go. We keep being told that they are planning for 2015 and that Pietersen will be involved then, so if that's the case then let's go with it.
It potentially gives you more options in the middle-order - you could leave Kieswetter out and let Buttler keep wicket.
A fresh face like Buttler may not be as mesmerised as some of the batsmen that have struggled during the Test series.
I'm afraid Ian Bell has had his opportunity; Andy Flower says the Warwickshire's ODI career isn't over but the truth is that an average of 34 from 108 games simply isn't good enough.
You can only keep faith with the Test cricketers for so long; no-one should be exempt from being dropped once they stop performing.
Variety
Tim Bresnan's return to fitness is a big lift for England; he's a terrific all-round cricketer and a very canny bowler in particular, while Steven Finn has been rewarded for his efforts in the India where he was the only star with the ball.
I don't have any worries about the bowling attack, particularly as Broad is in peak form; I would rely on five bowlers to do the job and if the pitches are offering considerable turn, would consider playing three spinners and two seamers.
Danny Briggs has a great temperament and offers a lot of variety; he is a great prospect in all three forms of the game and, in this instance, could come into the XI at the expense of Bresnan, which is harsh on the Yorkshireman but necessary.
England don't have a great recent record in one-day cricket and have now lost their last eight international matches on the bounce (five one-dayers in India, three Tests against Pakistan), so it's time to stop the rot.
Let's hope that some of these young guns can inject some clear thinking and dynamism into the side.