Mor from Eoin
Bob Willis believes England should push Eoin Morgan up a spot in their one-day batting order.
Last Updated: 28/06/12 9:10am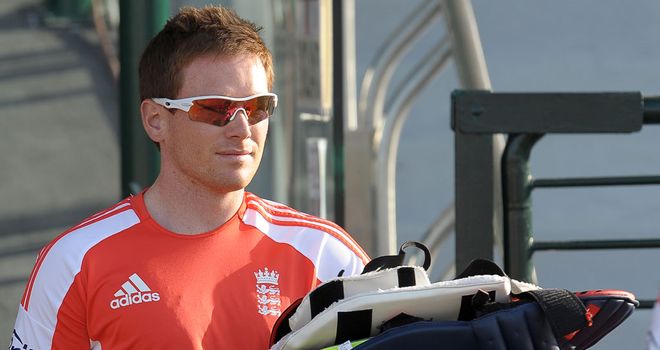 England are on the up in one-day cricket and have very few issues to address heading from the West Indies series into the Australia one.
However, one slight concern may be that Eoin Morgan, who can be a match-winner, has not had a chance to showcase his credentials due to the form of the batsmen above him in the order, notably Alastair Cook and Ian Bell.
The Middlesex man sits at number five in the line-up at present but there is a strong argument for him to leapfrog Ravi Bopara and come in at the loss of the second wicket.
We know Morgan is very adept in the final four or five overs playing the finishing role, but he is a better player than just a last-gasp big hitter, and if he came in earlier he could have a much bigger impact on the game. I think he should be given that opportunity.
Craig Kieswetter, meanwhile, is currently filling the wicket-keeping berth but he could be in danger of losing his place with Jonny Bairstow and to a lesser extent Jos Buttler, who in the fullness of time will become a very fine player, waiting in the wings.
England have generally tried to put their 'keeper as an opening batsman - the position Kieswetter fills for his county side Somerset in one-day matches - with that policy going all the way back to the likes of Phil Mustard, Steven Davies, Matt Prior and Geraint Jones.
But with Cook and Bell performing so well that spot is no longer available, and Kieswetter has to adapt to batting in the middle order.
He has not had a chance to do anything right or wrong in the series with West Indies with the batsmen that come in before him in such good nick, but Bairstow is breathing down his neck.
And I think I would just opt for Bairstow, because of his flexibility to bat anywhere in the middle order and because he looks like a very worthy one-day player, even though he has not yet shown that he can hack it at Test level.
Restrict
Regular readers of my column will know that I have been an advocate of England playing five out-and-out bowlers in Test cricket and that philosophy has worked to great effect in the one-day games.
The top six batsmen should be able to get enough runs in 50 overs on good pitches so if you can play five bowlers you should do it, and then if one or two of them can bat, as England's can, then that is a bonus.
A balanced attack ensures that you are not filling overs with part-timers, as the West Indies have done, and that gives you the greatest chance to restrict your opponents' score, something England did in the second match at The Oval.
West Indies don't know how to win at the moment but Australia do, and they will be a much sterner proposition when the five-match ODI series begins on Friday. While the Windies' bowling attack is threadbare, Australia have got high-class, genuinely fast seamers.
Brett Lee delivered an electric cameo during his side's rain-abandoned game with Ireland on Saturday and I don't think he will have any trouble replicating that over 10 overs throughout this series.
He is the leader of Australia's attack and has learned a lot now that he does not have to bother about the strains of five-day cricket. He is a much more reliable one-day bowler and gone are the times when he was dispatched for six or seven runs an over.
It remains to be seen whether the often-erratic Mitchell Johnson can be reliable and if promising youngsters Pat Cummins and James Pattinson can do some damage to England's batsmen.
Cummins, however, has got a very relaxed approach to the wicket; he doesn't sprint in like Lee but has a smooth action in the mould of former Aussie quick Jason Gillespie. He is a very exciting prospect and if he can keep fit he is definitely going to be one for the Ashes in 12 and 18 months' time.
Operator
The only weakness I see in the Australia side is in the batting, with the absence of Ricky Ponting and Michael Hussey ensuring that the middle order will have a youthful look.
David Hussey, 34, will be the exception and, despite being in the shadow of his brother for quite some time, is a very competitive operator in his own right, while he has vast experience of playing in England following his spells with Nottinghamshire.
There is always a temptation to replace elder batsmen with younger models, but the fact of the matter is that the older ones are usually more successful and that should be the case with Hussey, who is still aiming to force his way into the Test team.
David Warner will open the batting for Australia and is somewhat of a one-off, with his switch hitting, sweeping and agricultural smacks over mid-wicket.
If he comes off during the powerplay he could put Australia out of sight, but England's bowling attack is so experienced now that they shouldn't really be tonked around by anyone at the top of the order.
Australia are ranked number one in the world in ODI cricket and will be desperate to retain that tag, but I think that lack of experience in the middle order equals the series up a little and I am anticipating an extremely close contest.
If the weather behaves itself I can see a 3-2 result - hopefully in England's favour.