KP can't complain
Bob Willis says England are right to omit Kevin Pietersen from the provisional World Twenty20 squad.
Last Updated: 19/07/12 2:10pm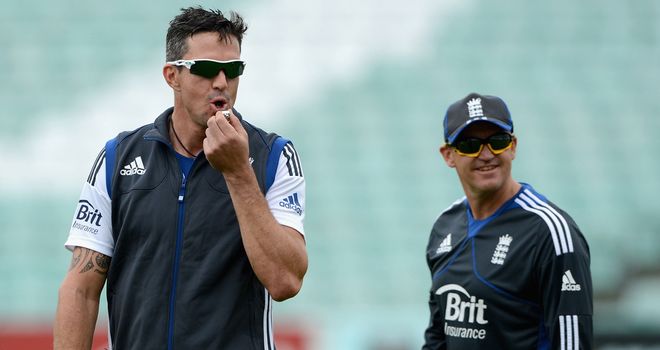 Kevin Pietersen can have no complaints about his omission from England's 30-man squad for the 2012 World Twenty20.
He cut his own cloth when he quit limited-overs cricket in May and now he's got to live with that decision.
Andy Flower was never going to be messed around by him and while the door is not entirely shut on Pietersen the onus is on him to come around to England's way of thinking. England omit Pietersen.
I don't think Flower and ECB managing director Hugh Morris have particularly fallen out with Pietesen but they won't kowtow to him, otherwise what is the point of those lucrative central contracts?
From day one Flower has made it clear that he won't be dictated to and has no intention of paving the way for a new breed of mercenary cricketers whose globe-trotting ambitions could hurt English cricket.
Once you make an exception for one player to compete for the full six weeks of the IPL (which, incidentally, is far too long a competition) there's no justification for stopping players competing in other premier T20 competitions around the world.
So players have to make their choice: do they want to become batsmen and bowlers for hire or are they fully committed to an England career?
As things stand, England are digging their heels in and rightly so.
Players can't expect to go away for the IPL and come back and sit out 50-over cricket in order to have a rest while still playing for the T20 side.
England are very much part of the ICC, who are trying to maintain Test match cricket as the pinnacle as the game, so it's only natural that Flower should do everything within his power to protect the integrity of the five-day game and England's ranking as the best side in the world.
Motivated
Ahead of the first Test against South Africa, England captain Andrew Strauss and James Anderson both dismissed the idea that all this talk about Pietersen's future will affect England's chances against South Africa and I have to agree.
More to the point Pietersen will be more motivated than ever against South Africa because as things stand this is his only format in which he now wears the England colours.
Any runs at the wicket are good runs but Pietersen's double-hundred against Lancashire could not have been better timed ahead of the series.
We all know that Guildford is a postage stamp-sized ground with a very flat, slow pitch while Lancashire's bowling attack is not that terrific, but even so you can't knock time in the middle.
The great thing from England's point of view is that I can't remember a recent Test series where each of the top six - even seven - batsmen are all in top form.
There's usually one or two scratching around for runs but that's not the case right now; I just hope I haven't put the mockers on it!
Greatest
In English conditions the hosts will start as favourites, but this series is going to be no easy ride.
In Dale Steyn, England are up against the best bowler in the world while four of South Africa's top five - AB de Villiers, Jacques Kallis, Hashim Amla and Graeme Smith - are in the top 10 of the batting rankings.
Kallis is possibly the greatest all-round cricketer of all time - certainly his statistics would suggest as much. Out of all of South Africa's rich array of talent, he's the one I would least like to bowl at if my time was now. Quite simply he's an awesome competitor.
Let's hope the weather doesn't spoil what should be a great series.