Out of the Ashes
Andrew Strauss' legacy is taking England from despair to double Ashes glory, says Bob Willis.
Last Updated: 29/08/12 3:47pm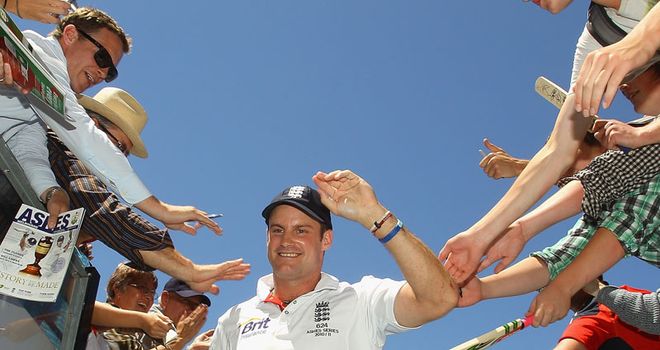 Andrew Strauss' decision to retire is a bombshell, not least because of the timing.
Despite the Test series defeat to South Africa, we were all expecting him to lead the side to India this October and - had things gone well - thereafter against New Zealand before skippering England against Australia in back-to-back Ashes series in 2013 and 2013-14.
The barometer of success for every English cricket fan is how the side is doing in the Ashes.
Strauss was England's player of the series as he led the side to victory on home soil in 2009 and he then guided the team to victory in Australia in 2010/11.
He'll rightly be remembered for that. Lifting the urn twice is his legacy.
Struggling
Now he's decided that enough is enough and in his press conference he was keen to stress that his decision has nothing to do with the Kevin Pietersen saga. I honestly believe him.
It's been clear for a while that Andrew has been struggling with the bat and that has taken its toll.
Although he did get some runs against the West Indies' below-par attack, he knew in his heart of hearts that he was struggling against the best attacks in the world.
He hit the nail on the head when he said that he doesn't want to become a passenger in the side or for people to question whether he is worth a place.
Some players - like Mark Ramprakash - opt to finish their career in county cricket but that didn't seem an option for Strauss. He feels his batting can't improve, so what's the point?
There were no tears in his eyes as he made his announcement this morning. He had clearly thought this decision through very carefully and for him and everybody else he thought it was the right one.
Stresses
There's another side to consider too: the mental and physical stresses that come with being England captain are huge.
In many other sports a manager is in charge of decision-making but in cricket the majority of those calls - and all of them on the field - are down to the captain.
He then has to answer to the media, which is very, very time consuming as well as deal with all the responsibility that comes with being a public figure.
I know that people really recognise and appreciate your efforts as England captain, which is why it's a very sad moment when you choose to give it up or are given the sack.
Strauss can be very proud of what he has achieved, though, because he and Andy Flower have put the smile back on the face of English cricket.
They took it from the bowels of despair after England are bowled out for 51 at Sabina Park in early 2009 up to No 1 in the world ranking and they seemed destined to stay there for a long time until they met a superior side to themselves in South Africa.
Concern
Strauss' successor, Alastair Cook, has been in and around the England side since the Strauss-Flower regime began so in that sense not much changes.
Luckily England have a very strong bowling attack - they've got reserves in both spin and seam bowling, so that area should look after itself.
But the batting line-up is of much greater concern. England have got plenty of options in the number six position but there isn't a go-to name to replace Strauss as Cook's opening partner and they may have to shuffle the order.
Throwing in a rookie opening batsman for a tour of India is going to be a very tough assignment indeed. I don't think there is any opening batsman around the country who is ready to step up at the moment. Joe Root is possibly the most complete player but to ask him to open the batting in India would be absurd as far as I'm concerned.
So although it wouldn't be everyone's ideal partnership, promoting Jonathan Trott to opener would make the most sense in the short-term, with Ian Bell moving up to No 3.
Of course, the whole Pietersen issue still has to be resolved but I don't think we'll see him in England colours in the short term.
That means there should be plenty of opportunities for the likes of James Taylor, Jonny Bairstow, Ravi Bopara and Eoin Morgan to try and establish themselves.
Until someone does, the England batting department is going to be in a complete state of flux.