Out of the reckoning
Kevin Pietersen's non-selection for the India tour could mark the end of his Test career, says Bob Willis.
Last Updated: 18/09/12 1:09pm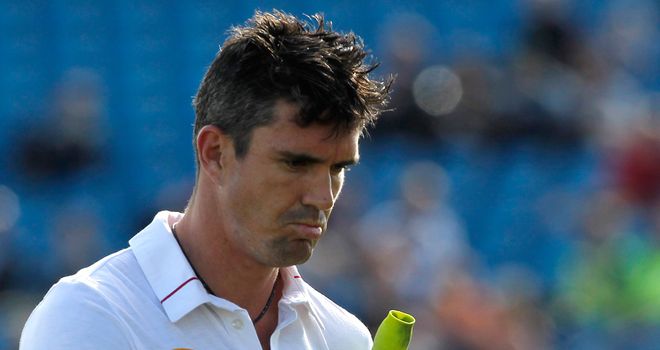 This could easily be the end of Kevin Pietersen's international career.
His exclusion from the squad for this winter's tour of India sends out a very clear signal and the longer that he is out of the side, the longer it will take him to get back.
Whether England win, lose or draw in India, there's every chance that the team will settle down and be keen to move on, prompting the question 'do we really want Pietersen back?'
Today's statement from ECB Managing Director England Cricket Hugh Morris suggests that there are clearly huge issues that still need to be resolved in this fallout and from a distance it appears that neither side is willing to take a backward step. Pietersen snubbed.
So although Pietersen is one of the best players we've seen in recent decades I think the feeling is that England feel they can do without him.
The issue is clearly at the forefront of his mind too - he intimated as much in the interview he gave after making that fantastic hundred at Headingley, when he said that he did not know if the Lord's Test (which he didn't end up playing in) was going to be his last.
Treachery
Personally I don't think Pietersen will be bothered about missing this series in India against New Zealand - or the two Tests against New Zealand in England, which are a prelude to the Ashes next summer, because those two Tests clash directly with the IPL. He wants to play the full IPL season and be paid handsomely for it.
But I'm sure that new England captain Alastair Cook would want a player of his ability in the side.
Clearly Pietersen is one of the best players in the world and England should be picking the best team regardless of the character. Most sportsmen will tell you that they've played with players who were less popular than others - you just have to get on with it for the sake of the team.
The trouble here, though, goes beyond the fact that Pietersen is not a team player or that he thinks exclusively about himself and what his performances are going to do to his profile; that has always been a major problem in any dressing room he's been in.
Rather, it goes back to those texts he sent to the South Africans referring to former England captain Andrew Strauss using as a four letter word and telling them how to get Strauss and other England batsmen out.
If England interpret those texts as treachery, there may well be no way back for Pietersen.
Profile
We understand that he's being paid a bout £1m for going to commentate on the T20 internationals and a similar amount of money for him to partake in the whole of the IPL. These are mind-boggling figures for cricket circles in this country.
You have to remember, though, that all of the big players in the IPL got their invitation after they'd made their name in Test cricket - the likes of Jacques Kallis, Chris Gayle.
That's the profile that Pietersen won't be able to keep up if he's not playing for England. He's been left without a full-time England contract.
That might be a double-edged sword as well. He might not want a central contract from England - he might want more freedom to be a freelance cricketer.
So far Pietersen has been reluctant to make a full and frank apology. He's sent emails via his agent - that's not how one behaves in a team environment. You go to the team and you apologise to them individually.
He's kept picking at this scab and that's why it's taking such a long time for the wounds to heal.
Prospect
Pietersen's absence opens the door for other players to make their mark and Nick Compton and Joe Root have both been included in the squad.
Nick's had a truly fantastic season with Somerset. He started his career with Middlesex but has improved dramatically since changing counties.
Batting at Taunton is a delight and he very nearly got to 1,000 first-class runs before the end of May.
In the last few weeks Marcus Trescothick has been batting with Compton and he said he was mightily impressed with Compton's character and thought he deserved a chance because England selectors are always saying performances in county cricket will be rewarded by England call-ups.
Root is also an excellent prospect. He's been on England's radar for a while now having been involved with the Lions for a couple of years.
It's a big ask for a young man to go out to India on his first tour and succeed but Alastair Cook did it - he made his debut against India in Nagpur and scored a century in his first match so if they're not thrown in at the deep end you never know.
Now's the time to find out - because sometime soon England will have to decide on the side that is going to defend the Ashes next summer.