James Anderson is England's 'complete bowler' says Bob Willis
Bob Willis is ready to welcome James Anderson to the 300-club and has high hopes for Jonny Bairstow.
Last Updated: 25/03/13 11:41pm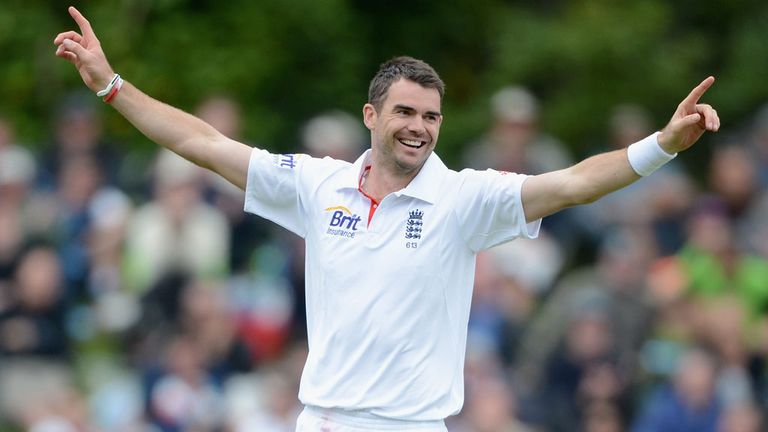 With this series in the balance, the Indian Premier League approaching and a summer boasting the Champions Trophy and the first of two Ashes series, the timing of this knee injury is very disappointing - for him and his team-mates - particularly as his reintegration back into the team is the stuff of recent memory.
I know Pietersen is a big fan of the Indian Premier League but his insurance should cover his fee for that, so he's unlikely to miss out too much financially.
However, questions have rightly been raised about whether he can get the injury right for the start of the summer. We can only wait and see on that score.
Opportunity
Pietersen's absence in Auckland will weaken the England side considerably, particularly as his replacement Jonny Bairstow hasn't had any cricket of late.
Bairstow - who is a very popular member of this squad - must regard every chance he gets to play for England as a great opportunity, just as he did against South Africa after a shaky start in the series against the West Indies.
Clearly he, like Joe Root, has been identified as the next cab off the rank. To be frank I'm not quite sure what his selection says about Eoin Morgan, who only recently was given a full-time contract.
It was obviously unfortunate that a family illness resulted in Bairstow missing some cricket early in the winter, but now he is back he has to grab this opportunity with both hands and it will be good to see the two Yorkshiremen - Bairstow and Root - playing for one spot in the summer because Nick Compton has seemingly made that opening berth his own.
Aside from Bairstow's recall, I don't expect England to change their side to any great degree - particularly as they felt very much on top of things in Wellington.
I'm sure they would have backed themselves to win that game if the Test had run for its full amount of time, even though the pitch was very flat.
The drop-in pitch in Auckland should be quite a bit pacier which is good because it should result in more interesting cricket and allow the bowler to get into the game more.
The only downside it that it probably won't spin very much and, as Eden Park has very short straight boundaries, spinners will find the going tough.
Complete
I'm sure that won't bother James Anderson, who is within touching distance of 300 Test wickets.
Ian Botham and I know how much blood, sweat and tears it takes to take that many wickets and we will definitely buy him a drink when he gets there!
Jimmy has sailed past the likes of Darren Gough, Andy Caddick, Matthew Hoggard, Steve Harmison and Andrew Flintoff in the modern era, which underlines just how great a bowling leader he is.
Anderson has proved time and again that he can get wickets on any surface - an ability that many out-and-out quick bowlers don't possess. He has been successful on unresponsive wickets on the sub-continent when other bowlers, who rely on pace and seam, have been negated.
In contrast Jimmy can use orthodox swing when the ball is new or reverse swing when the ball it is older, plus he can keep things tight when there is nothing going for the bowler. He's just about the complete bowler that any captain would want to have in his team.
Balanced
His ability is just one of the reasons why I believe England are much the better team. I've been impressed with Bruce Martin but the rest of the New Zealand attack is fairly pedestrian unless it swings for Tim Southee, which it might do at Auckland.
I don't think England are going to make the same mistakes as they did in the first innings in Dunedin and their attack is better balanced so I'm confident they can go on and win the series.
It won't be easy but they should be able to make their class tell and, if they do, a victory will give them a great springboard for the two-Test home series against New Zealand in May.
Then it's onward into the Ashes, with hopefully everybody fit!
Watch day one of the thrid and final Test between New Zealand v England from 9pm on Sky Sports 1 HD.