Cricket Expert & Columnist
Andy Flower: Zimbabwean has played key role in England's rise
England will miss Andy Flower greatly when he eventually stands down as team director, says Bob Willis.
Last Updated: 26/08/13 2:26pm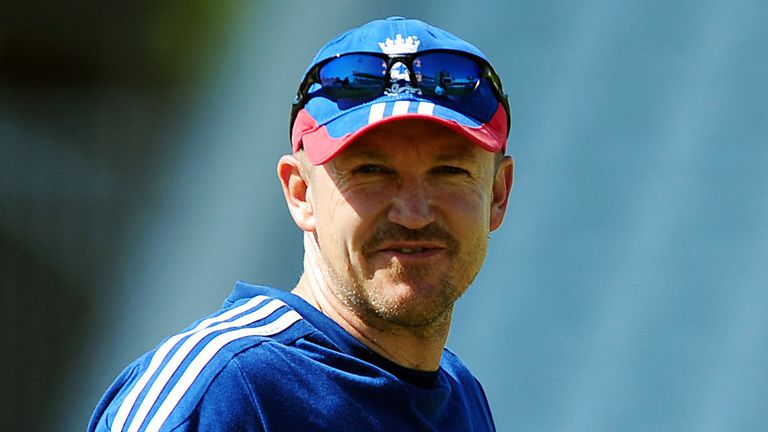 Flower has masterminded three successes over Australia now and will probably try for another one this winter but it looks like he feels the next Ashes on home soil, in 2015, could be a bridge too far for him and his family.
Coaches/directors of cricket have a definite shelf-life and I'm sure Flower wants to go out at the top rather than wait for a dip in the team's fortunes and I would admire him greatly if that's what he did.
He will be very sorely missed when he does go because I think he has been the main influence on England's rise; Nasser Hussain and Duncan Fletcher set England on a better path from 1999 and, in a more pleasant style, Flower has taken it on after the short tenure of Peter Moores.
Although a little conservative in his approach after the debacle in Jamaica at the start of his temporary reign, Andy, with firstly Andrew Strauss and now Alastair Cook, has put England on a very firm footing indeed.
Flower has a very keen work ethic but his great advantage is that he was a world-class player who averaged over 50 in a bad Zimbabwe side, and that makes him a great role model for his charges in the dressing room.
Obvious
With Cook still wet behind the ears as a captain, he will certainly need Flower holding his hand in Australia this winter, but after that you would say that Giles is the obvious candidate to step up to the senior role.
He has been a success at Warwickshire and is very close to the England set-up, not just as one-day coach - where he, of course, led his team to the final of the ICC Champions Trophy this summer - but as a selector, too.
I know England appointed Giles to reduce the workload on Flower but if Giles does become Test match coach I think, initially at least, he would continue to head up the limited-overs side as well in order to stamp his authority.
Cook is going to be captain in the Test and ODI formats for a good while so it would help cement his relationship with Giles if they worked together all the time, before the situation is reassessed a couple of years down the line.
The fact there is an heir apparent to Flower shows how meticulous England's succession planning has been since the Schofield Report in 2007 when Hugh Morris was promoted to managing director of cricket.
Morris - who has announced that he is stepping down to become chief executive and managing director at his old county Glamorgan - has been a huge influence on the English game whilst filling a difficult role that involves balancing the demands of England and those of the 18 counties.
Hugh has been able to persuade ECB chairman Giles Clarke that all of the England sides - the senior one through to the women's team and the junior squads - need a lot of finance and support thrown at them.
Whatever England have wanted, Morris has been instrumental in delivering it.
Perfect
Flower and Morris have played key roles, then, and so did Kevin Pietersen at the Oval on Sunday as England tried to chase down the 227 Australia set them to win an Ashes series 4-0 for the first time.
Pietersen is England's best player by a mile and that sort of situation, when he is centre stage and everyone is looking to him to increase the scoring rate, is where he wants to be and the perfect place for him.
Kevin has said that he wants to play in the 2015 World Cup and England would be loath to lose his talents in the near future having fully re-integrated him back into the side after the text message saga of last summer.
The demeanour of the other players in the dressing room, coupled with what they have said about Pietersen, shows his transgressions have been forgotten and huge credit must go to Cook for accelerating Kevin's return to the line-up.
I felt Cook was outmanoeuvred in terms of field placings by opposite number Michael Clarke this summer - the Australia captain was more effective at blocking off opposing batsmen's scoring areas, particularly those of Cook, Joe Root, and Jonathan Trott.
But at the crunch times when Alastair had to decide which bowlers should bowl in which situations, he got that right more often than not, despite a couple annoying last-wicket stands from the Australians.
Still, he will want Flower helping him for a little while yet.