Bob Willis paid tribute to YB40 Champions Nottinghamshire and feels for Glamorgan's Simon Jones
Bob Willis paid tribute to YB40 Champions Nottinghamshire and feels for Glamorgan's Simon Jones.
By Bob Willis
Last Updated: 22/09/13 5:12pm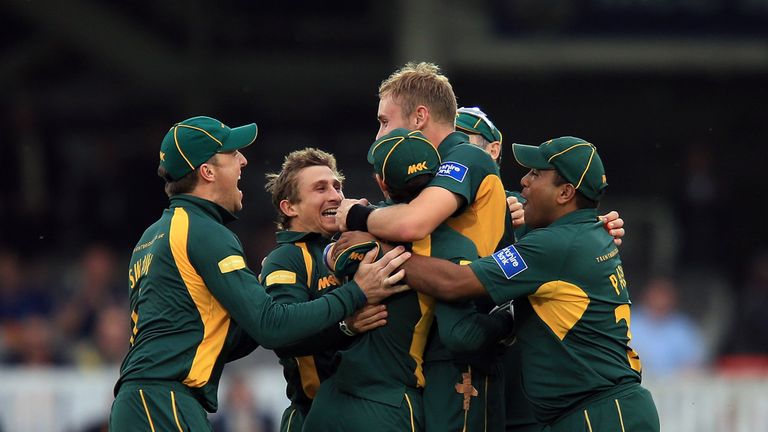 The Outlaws, who ended a 22-year wait for a limited-overs trophy, set a total of 244-8 which proved far too much for the Welsh county.
"It was desperate disappointment for Glamorgan who battled hard to get to this Lord's final but Nottinghamshire on the day were the stronger side," said Bob Willis.
"Chris Read and his side too often fall at the final hurdle - this time they have got the silverware. They have absolutely annihilated Glamorgan.
"If we played our favourite game of doing a composite side between these two sides which Glamorgan players would get into the team? Notts are a very strong outfit; they have England's T20 opening pair at the top then tremendous experience with James Taylor, Samit Patel in at three and four. Then the real backbone of the batting with David Hussey and Chris Read.
"Then you have the England stars lower down with Broad, Swann, Shahzad and Gurney. They are a very powerful outfit. We thought the final was going to be very close about ten overs in to Glamorgan's innings but that little spell from Samit Patel turned the match on its head. We know that form is temporary and class is permanent, well this is a pretty classy outfit."
There was no fairy tale ending for Glamorgan's Simon Jones who retired from first-class cricket following the loss. Jones career has been blighted with injury and Willis can understand that while he has no regrets he does have plenty of frustrations.
"I had my share of injuries early in my career and fortunately I got stuck together with sticking plaster and carried on. Simon never got back to that level again - he tried very hard but the injury he had in Brisbane was almost crippling. Going back 15 months before that, he was the bowler that Michael Vaughan turned to when England needed a wicket and nine times out of ten he produced one."
Marcus Trescothick is surprised that Nottinghamshire have not won more silverware and also feels for the Glamorgan team.
"If you look at their one day team on paper over the last few years they have been pretty strong, they have had some real quality in there. They attract good players to the club and it is amazing that they have not gone further than they are doing today in recent times.
"I've sat where Glamorgan have sat many a time trying to understand what has just happened. You sit there and go through the game - what you did wrong, what the opposition have done right and see what you could have done differently.
"There are no words at that point that you can really say to each other, you realise that you have probably under-performed. You just try and take it on the chin; it's never easy though."