Cricket Expert & Columnist
Jonathan Trott: Batsman could be absent from England for a long time after latest setback
Recurrence of illness shows problems are more deep-rooted than first thought
Last Updated: 22/04/14 10:07am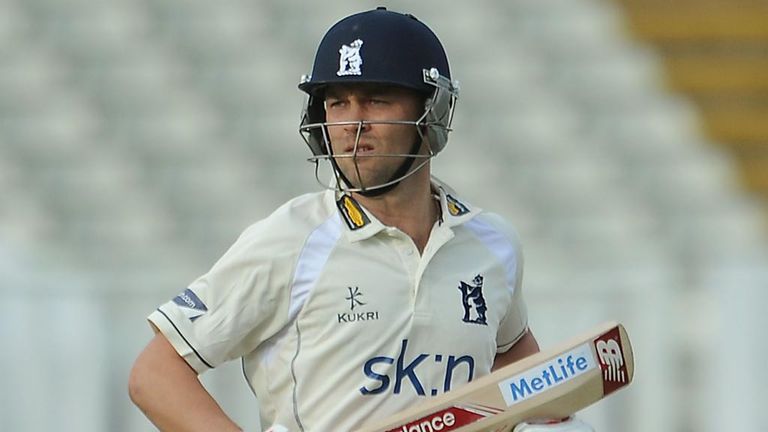 Trott, 32, headed home from England's Ashes tour this winter due to the condition and encountered a repeat of the symptoms during Warwickshire's recent County Championship encounter with Sussex, in which he scored 37 and 26.
The batsman will now take an indefinite break from cricket and former England seamer Willis fears it could be a while before he is able to cope with the international arena again.
"He is going to be on the sidelines for some length of time now and we can probably wave goodbye to him playing for England in the foreseeable future," Willis said of Trott.
"If this is going to re-occur playing in a fairly low-key game for Warwickshire there is no way he can take his place in front of full houses in a Test match situation."
Trigger
Willis feels Trott's troubles are more deep-rooted than just a tired mind and body after a substantial period travelling the world with the England team, and thinks they manifest themselves when the right-hander fails to score runs.
"I'm a little bit concerned about the misdiagnosis of this condition," he said.
"When Trott first left Australia we heard that it was a stress-related condition and in part of the documentary with Ian Ward he said it was burnout after he tried too hard and practiced too much and became physically and mentally exhausted.
"I'm afraid I can't go along with that and think it must be something deeper than Jonathan admitted to, something which is triggered by him not being successful at the crease.
"It is a very worrying turn of events as when you think he left Australia before the end of the Brisbane Test in November, has had a long break from the game and a no-pressure reintegration into the Warwickshire set-up, and yet this reoccurred in the first competitive game.
"So I think there is great concern amongst the ECB that neither Trott nor they know exactly what the condition is, so the ECB medical team have to take this extremely seriously and get him back on the right rail."
Candlewick
The Sky Sports pundit also thinks that the situation with Trott - who has scored nine Test tons and 18 half centuries at an average of 46.45 since debuting for England in 2009 - shows how difficult it now is for players to forge long international careers.
And he believes that if professional-cricket hopefuls cannot deal with spending lengthy periods away from their loved ones playing multiple forms of the game, they should head into another job.
"Graham Gooch had a Test match career of 20 years or so but with the concentration of cricket and the different styles players are asked to play these days, careers are going to be shorter," he added.
"The candlewick is burning all the time and I think players going into the game have to accept that, be prepared to see it like joining the army and know they will be away from their family.
"If you can't do that, find yourself another occupation."