Cricket Expert & Columnist
England v India, fourth Test: Steven Finn must play at Old Trafford
Seamer has rediscovered his snap and should be nearing the peak of his powers...
Last Updated: 05/08/14 5:57pm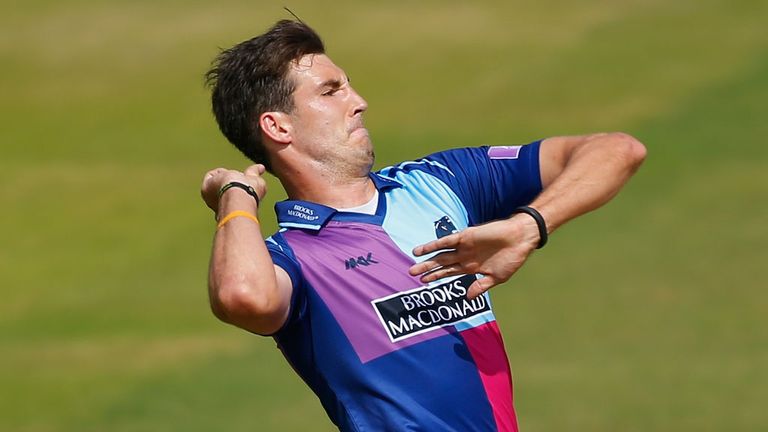 The timing of Steven Finn's recall to the England squad could hardly be better and I'd get him straight into the team for Thursday's fourth Test against India.
Finn has had time to iron things out at county level where he's been concentrating on his red ball cricket, but we've also seen him bowl pretty smartly on Sky Sports in the NatWest T20 Blast.
He looks to be in good heart and form and right now he's a better bet than either Ben Stokes or Chris Jordan at their respective current stages of development, so given Liam Plunkett is injured I hope that the selectors play him.
Finn has never had a very good economy rate (something that counted against him on the 2010/11 tour of Australia when he was unlucky to be left out after three Tests despite being the leading wicket-taker) but he's always had a very happy knack of picking up wickets.
I know Michael Holding, one of the greatest West Indies bowlers of all time, is a great fan of his (which is good enough for me) and I don't think Gus Fraser, now Director of Cricket at Middlesex and an England selector, would have agreed Finn's inclusion in the squad if he wasn't ready.
Over the years there has been some dispute between country and county about how bowlers have been handled when they've gone on England duty but Fraser's presence should ensure that is no longer the case.
Finn is at an age now where he should be reaching the peak of his powers and it would be great to have him firing on all cylinders from now on through to the Ashes campaign next summer and beyond.
Snap
Finn is at an age now where he should be reaching the peak of his powers and it would be great to have him firing on all cylinders from now on through to the Ashes campaign next summer and beyond.
Bob Willis
In the early stages of Finn's career I was always concerned by his tendency to headlong 'along the floor' in his follow-through, although it didn't do him any great harm.
However, when he started kicking the stumps over in his delivery stride it threw him right out of sorts and while he experimented with getting wider at the crease off a shorter run-up thing just went to pot after that.
As Jimmy Anderson found out early on in his career, going away on tour with England only to bowl out in the middle at lunchtime doesn't really help you get the feel and rhythm of bowling back. 'Middle cricket' is the key and he's had that now; it looks as though his rhythm and snap has returned; his wrist position behind the ball looks good and he's hitting the seam.
Finn will still go the distance sometimes in an attempt to bowl quickly. I've heard that Old Trafford is going to offer the seamers a little extra pace but I'm not sure the pitches are that quick since they've turned the square.
However, it will be an excellent cricket wicket and England will need Finn's extra pace to cause mistakes in and Indian batting line-up that is quite vulnerable at the moment.
Pace
A lot has been asked of Anderson and Stuart Broad in recent years and they need a bit of help. Chris Woakes was unlucky at Southampton, granted, but Jordan was out of sorts and they didn't get a wicket between them. Finn can help to dissipate their workload and give Anderson and Broad the chance to see the series out.
I see that there are plenty of pecking names in the order doing the rounds after Finn – Graham Onions, Tim Bresnan, Boyd Rankin to name but a few beyond those already in the squad.
As Woakes, Jordan and Stokes all bowl at a very similar pace I think England need to turn to someone with a little bit extra about them.
If Surrey can keep him fit, Stuart Meaker would be quite near the top of my list because it's pace that worries Test batsmen on good pitches and I can't see the likes of Jordan and Stokes bowling people out.
Liam Plunkett did get a five-wicket haul, lest we forget, earlier in the summer against Sri Lanka at Headingley with his extra pace and we've seen what Anderson and Broad can do but I think the others do need to keep discovering that extra yard.
Watch the fourth Test between England and India live on Sky Sports 2 from 10am on Thursday.