Time to talk, Kevin
Bumble believes in second chances, but says Kevin Pietersen has got some explaining to do first...
Last Updated: 23/08/12 11:39am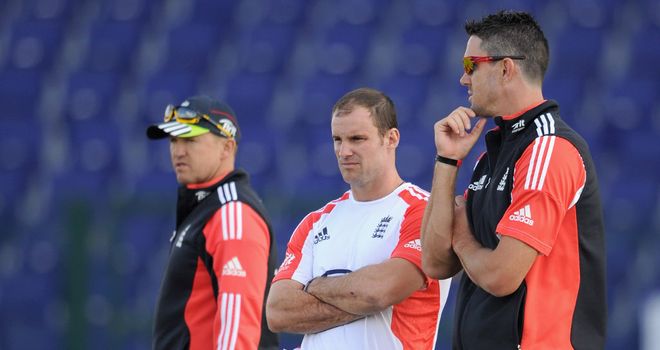 We saw a brave effort from England at Lord's, but it was good to see Andrew Strauss and his players acknowledge South Africa as the better side.
Listening to the interviews they know they've got problems. There's a well-publicised internal problem to sort out (more on that shortly...) and they need to look at the areas where South Africa were stronger.
South Africa's attack was definitely superior. They played England at their own game and wore them down. They were simply second best to Dale Steyn, Morne Morkel and Vernon Philander.
I was alarmed at the paces of the England bowlers, which were all down, and I think it's significant that Stuart Broad has been rested for the one-dayers. That's a decision that doesn't surprise me and I thought James Anderson should have been rested as well.
Maybe it's time to look at the other bowlers who are around? Stuart Meaker is of course one, Ajmal Shahzad is another and Graham Onions is obviously in contention. Maybe it's time to spread it around?
In terms of the batting, we should be celebrating a fantastic performance from Jonny Bairstow, but he's hardly got a mention. If anybody wanted to know if this bloke was a Test match player then they should have watched him against South Africa.
If you're looking for a yardstick then playing at Lord's in those circumstances against that attack is as good as it gets. They respected him immensely because they gave him a right going over in the first innings and he stood up to everything.
It would have been great to see him make a century, but it took a great piece of bowling to get rid of him.
A second chance?
However, the big issue is still Kevin Pietersen and that whole affair is definitely affecting the team.
I think the next step is very simple. Kevin needs to find a neutral venue and sit in the same room as Andrew Strauss and Andy Flower. He needs to do all the talking and the other two will listen and decide if there's a way forward.
I don't want to see any advisors or hangers-on in there, just those three. We don't need anybody else involved, they should just say "what's going on?" and then sit back and listen.
This needs to happen as soon as possible and for all I know it may already have taken place. They had no alternative but to leave him out of the one-day and World Twenty20 squads and his future is now down to Flower and Strauss.
My personal view is that people deserve a second chance, but he needs to be very wholesome in his explanation as to what he's been doing. I'm not bothered by how to get Andrew Strauss out (if South Africa don't know that they shouldn't be playing international cricket), but it's the other stuff that worries me - and we're led to believe there's more.
Only one person can explain what's been happening and that's Kevin Pietersen. I believe in second chances, but he's got to do the talking if he's going to get one.
Let's have a bash
I'm off to Cardiff for t20 Finals day on Saturday. I'm tipping Yorkshire, but they won't like me saying that because I always get it wrong.
I'm excited because Cardiff is a great place for this event. It's like a big party - and they don't need many excuses for a party in that part of the world!
The mascot race is a really big do this year. I usually commentate on it, but we've got loads of people doing it this year - Richie Benaud, Geoffrey Boycott, Fred Trueman, Tony Blair, David Cameron... they're all there.
Confused? Tune in on Saturday to see what I'm talking about!
Gower in the garden
I hear Lord Gower was faced with a dilemma this week. It seems the fellow that tends to the garden didn't turn up.
As a consequence he had to do it himself. To use his own words he had to get one of those "things that cut the lawn."
He ended up doing it in a pair of plus-fours and a cravat - and it took him the best part of two days. I guess the grass takes some shifting on an estate of that size! It's been playing havoc with his mange tout.
In other news, I hear Lord Gower is now on Twitter which is something of a surprise!
Ringing out
Lord's decided to allow some of the world's top Olympians to ring the bell at the start of each day's play.
On the first day it was some fellow who I think was called Sexton Blake and then we had good old Mr Wilson, who won a gold medal for shooting. Those clay pigeons had no chance with him around!
On Saturday they asked yours truly, the Musical Chairs Champion of Accrington from the year 2010!
As I say, only the finest Olympic sportsmen could be given an honour like that...