Hit and hopes
Bumble and Bob Willis discuss England's ICC World Twenty20 strengths - and their biggest title rivals.
Last Updated: 17/09/12 11:56am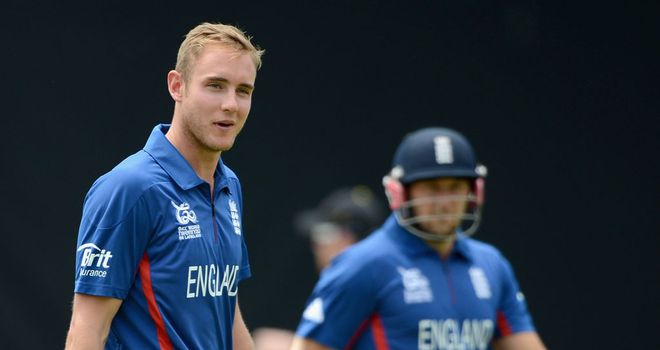 England are up and running in Sri Lanka with a nine-run victory over Australia in their opening warm-up game, at Nondescripts CC. Match report.
But do the ICC World Twenty20 title-holders have what it takes to defend their crown in the coming weeks - and if not, who will take it from them?
The tournament begins on Sky Sports at 2.30pm on Tuesday when the hosts Sri Lanka take on Zimbabwe in Group C, with England kicking off their campaign against Afghanistan on Friday. SKY LIVE SCHEDULE.
Before then Bumble and Bob Willis gave us their view on how Stuart Broad's squad are shaping up and how they will fare once battle proper commences...
Should teams fear England - and, if so, why?
BUMBLE: England were terrible in the first t20 against South Africa, but in the 11-over match at Edgbaston on Wednesday they were magnificent. They played what they would consider no-fear cricket; they went out and expressed themselves and they didn't get too tied up with theory. As Virender Sehwag (who is fantastic, by the way) would say: "See ball, hit ball."
I wouldn't pick out a particular individual as the key man. From Jade Dernbach to Craig Kieswetter they all have to do a job - and that's the case for every team. Anybody can easily get out, so then it's down to somebody else to step in and do a job.
BOB: The younger batsmen in the team - the likes of Luke Wright, Alex Hales and Jos Buttler - and to a lesser extent Eoin Morgan - are completely fearless because unlike more mature players they haven't had to adjust or adapt their game to Twenty20. They've learnt the game in this era. That can be a double-edged sword because speculative shots don't always work out so the threat is in the execution.
There's great adaptability in the attack too. Slow bowling has become integral to this format of the game and England, in these conditions, may well play two or even three spinners. In short, England have variety in their bowling and improvisation in the batting.
What is England's Achilles heel?
BUMBLE: I can't really see any weaknesses in the team except one. Kevin Pietersen isn't there. England would be a better team with him in it, but for now they need to get on with it.
BOB: I think it's reacting to onslaughts when they're bowling and keeping their cool. There will be times when bowlers disappear; that's when Stuart Broad has got to detach himself from his own game and make swift bowling changes to shake things up. But does he have the nous to do it?
If not England, who do you think will win?
BUMBLE: It's about who performs on the day, but I have two teams that I'll have a "modest consideration on".
The first would be Sri Lanka, who are the home team and will know the conditions better than anybody. They have quality players in Kumar Sangakkara, Tillakaratne Dilshan, Mahela Jayawardene and Lasith Malinga. They have loads of players who know the conditions and adapt well to Twenty20 cricket.
My other pick is West Indies. They've got everything and if Chris Gayle gets out they've got other people who can come in and score runs. But the big question is can they put it all together? We've asked that question many times before, but I reckon it's worth a bob or two to find out!
BOB: I'm with Bumble on this one in terms of Sri Lanka because there will be huge support for the home team. Sri Lanka are packed full of stars and have a decent record in this competition - finishing as runners-up in 2009 and semi-finalists last time out. Bumble's mentioned the batting but they also have decent all-round options, plus the mercurial talents of Lasith Malinga and Ajantha Mendis. All in all they'll be pretty tough to beat.
So who are your dark horses?
BOB: If the West Indies are a united unit they wouldn't be a bad bet because you underestimate their batting at your peril. Most bookies have them at shorter odds than England but still fifth or sixth favourites. I'm always worried about the West Indies bowling and how many runs they will concede, but their batting is so carefree and explosive that when they click they could chase down almost any target.
South Africa have a terrific squad of players, and like the West Indies players, they have tremendous experience of the IPL so they certainly are a side that doesn't really have a weakness when they are at full strength.
BUMBLE: Neither of them have any chance of winning it, but I reckon both Afghanistan and Ireland will be well worth watching. Ireland will spoil somebody's party - as they did to England at the Cricket World Cup - and they will fancy sorting somebody out.
As for Afghanistan, for a war-torn country to produce so many people playing cricket is a fabulous story and we're all looking forward to seeing them play. This team is far more important - and goes beyond - a game of cricket.
Don't miss our Live ICC World Twenty20 Preview show tonight on Sky Sports 2 HD at 7pm.