Fault lines
Bumble blogs on England and India's failings at the World T20 and has his say on KP's return.
Last Updated: 03/10/12 4:20pm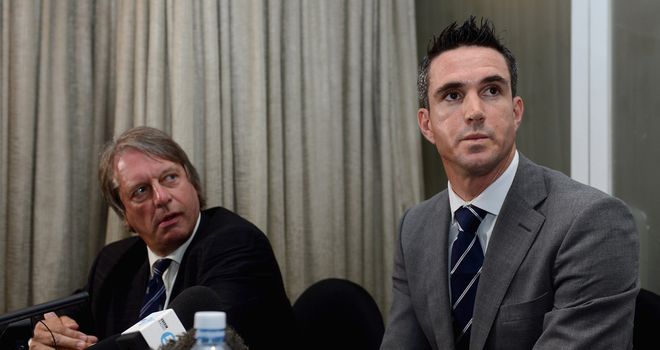 I'm starting to wonder if we've seen a few red herrings over this Kevin Pietersen situation.
I'll make it clear: I'm totally in the dark and I don't know what has gone on. But I wonder if the text messages and the KPGenius Twitter account are red herrings. I'm not sure if they have much to do with the real issue.
A lot of people have got opinions on this topic when they don't know what has gone on (and neither do I), but I was very interested to hear Giles Clarke speaking about it. He said his return could be sooner - but he also said it could be much later.
In my opinion, Pietersen is one of the top six batsmen I have ever seen and for him to fulfil his ambitions, he needs to play Test match cricket.
If communication and respect have fallen down within the England team then that needs to be rebuilt with all parties and it may just be that an independent arbitrator would help to achieve that.
But the bottom line is that if there has been a breakdown then the team must put it right. Every individual within that group must act on this.
The other thing I'll say on this topic for now is that the Big Bash in Australia cuts right across England's one-day series in India.
I won't say anything more, except I'd like to see him committed to England in all formats.
Call the spin doctors
Out here in Sri Lanka we've got four belting teams in the semi-finals, but if we're being realistic then England have been a disappointment.
I never felt they would get too far in this tournament, but we displayed a total inability to play slow bowling (and I am making a difference between spin bowling and slow bowling). There are so many bowlers out here with unorthodox actions who don't spin it; they just vary the delivery with very little spin.
We have been unable to come to terms with that - and it's been the case for a very long time.
It's not just us. We saw Pakistan tie Australia in knots on Tuesday - they didn't introduce a quick bowler until the 18th over - and South Africa and New Zealand are also on the plane home. It all points to the fact that you need to be a very wristy player to combat spin.
As we saw (when we finally got him in), our best player of spin was Samit Patel, who has an Asian background. We need to learn how to combat spin forcibly, although that is far easier said than done. They must work on it though.
Stuart Broad has put his own spin on things by trying to take some positives and saying it was a learning process for a young team. The reality is they weren't good enough.
Or maybe I should add a few extra words to that; they weren't good enough in these conditions.
India, it is your fault
The teams that are still here are what I consider to be the best four.
I thought India would be there or thereabouts, but I find it unbelievable that they are trying to put a spin on their exit. MS Dhoni, who I think is an absolute champion, said at his press conference that they hadn't done enough but since then there seems to have been a retraction. They're saying they won four out of five games and it wasn't their fault.
I've read a number of articles that are totally ungracious to the other teams that have played better. They need a reality check. This tournament starts in the Super Eights and in that phase they didn't do enough.
You do battle. You play as tough as you can. Then at the end of the game you say "well done" to the opposition.
The first two matches don't matter. They fell short in the Super Eights and I can never go along with the idea that "it's not our fault". If you haven't qualified then it is your fault.
South Africa didn't have enough with the wheels coming off spectacularly against Pakistan. New Zealand came adrift against spin and England were clearly not good enough either. All of these teams need to hold their hands up and try to do better next time.
As for the teams that are left, Australia may have looked like novices against Pakistan's spin, but they played good cricket and did things well previously to get themselves into the semis.
But I had a very modest flutter before the tournament started. My first team was Sri Lanka and my second was West Indies, so I'm sticking with my runners.
There's so many things to consider though; there has been rain around and the toss will be very important in both matches. I'm certainly not going to say anybody is going to win this with any great confidence.
Girl power
Do you know which game I'm really looking forward to commentating on? England's Women taking on New Zealand on Thursday.
There's a real buzz about it over here. I was stood in a lift with total strangers who were discussing how brilliant our women's team look. Somebody else suggested Sarah Taylor was the best women's player in the world.
I stood there thinking "this is flipping great".
I've watched a lot of their games, but I would still advocate (and a lot of you may disagree with me here) that the boundary should be no more than 55 yards and the pitch should be 20 yards. I'd probably say the outer circle should be double the inner so if that's 25 yards then the boundary should be 50. It would make it a much better game.
Somebody like Katherine Brunt has a really good action, but it would go through quicker with a slightly reduced pitch.
Women's cricket has got a lot going for it and there's no reason why it shouldn't be on the up and up.
Losing your temperance
Finally, I had a fish meal in the hotel earlier and asked for a glass of wine to go with it.
I was told I couldn't have one because it's Worldwide Temperance Day. My waiter told me that no drink would be served anywhere in the world.
I couldn't help but question this. So in the UK, USA, China and South America there would be no drink today? "No sir," came the reply.
I think you'll find it's only happening in this hotel mate (but please let me know if I'm wrong and none of you have had a slurp today). I bet the fellow who came up with that idea is getting a lot of votes!
I think they make it up as they go along...